General E-Mail Support
I'm being prompted by Outlook AutoDiscover
Users may receive a AutoDiscover error message that resembles the following:
When this error message occurs, click the "Don't ask me about this website again" checkbox and then click Allow that will let server to make the necessary configuration changes to the Outlook profile without future prompts.
Bounced mail or "Invalid" recipient
Some users are experiencing an issue where after migrating to exchange 2010 they are getting bounces when mailing certain recipients. These users may have an incorrect "suggested name" cached. For the recipient, start typing the name, Outlook "suggests" completion of the recipient address. Instead of accepting this suggested name, click delete and remove this suggestion. Click the "TO" or "CC" field, opening the Global Address Book. Search for and select the recipient. Send the email. Once this succeeds, then the next time the recipient is "suggested" by Outlook, it will be the correct/deliverable address.
If it becomes apparent that a large number of recipients have this problem, you can delete the entire suggested names cache by going to file - Options - Mail - Send Messages - and click Empty Auto-Complete List.
How to open a resource/shared mailbox In OWA
If you wish to open a group (Resource or shared) mailbox using Outlook Web App (OWA), first login to your mailbox using OWA at https://outlook.office365.com/owa/lsuhsc.edu/ Next click your mailbox name in the top left and click "Open Other Mailbox." You will then be prompted to enter a mailbox name. Enter the name of the group mailbox in the prompt previously mentioned.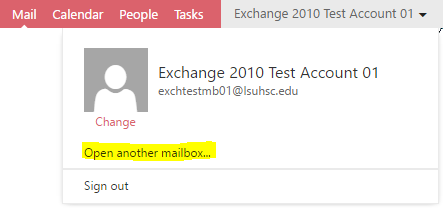 NearPoint Archiving:
The archive solution works fine within Outlook, but is not supported within OWA.
Users can still use the web interface at the link below to browse or search for archived items:

We have added this link to the OWA logon page for your convenience

But if a user wants to open an email from the web version of the archive interface to forward or reply, it will fail with the error message "Could not complete the request. Please try later." To forward or reply, open the archive using the full Outlook client, or they can copy and paste the content from the web interface into a new message.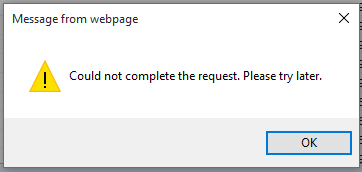 What are these new apps in Outlook and OWA
Exchange 2013 and Office 365 include a few built-in Apps that may be noticeable to users, including Bing Maps, Actions Items, and Calendar Suggestions.
These appear as drop-down buttons in a ribbon across the top of the message.
Bing Maps will appear if the contents of the message include a physical address (often included in peoples' signatures).

Clicking on the button will pull up a map of that address within the Outlook message that they can interact with.
They can also click links within the map to get directions, or view the map in a browser window.

Action Items will appear if Outlook's Actions Items recognizes items that need to be acted upon such as "Please send me the files…".
Calendar Suggestions occur if it recognizes anything that could be a meeting or appointment, and offers to create a calendar item for you for that time.
Supported versions of Entourage on a Mac
Users of Mac OS X 10.4.9 or later and Office 2008 or Entourage 2008 with SP2 and version 12.2.8 need to upgrade to Entourage 2008 Web Services Edition 13.1.4 in order to connect to their mailbox once it is upgraded to Exchange 2013. Please download and install the following update.
http://www.macupdate.com/app/mac/6835/microsoft-entourage-2008-web-services-edition
Additional Help
If you encounter any issues please contact the helpdesk at 504-568-HELP (4357).
How to submit a message as an attachment to Spam@LSUHSC.edu.
Submit Spam. You can now submit spam samples in both Outlook Web App and the Outlook client. Open a new message and address it to Spam@LSUHSC.edu. In your message list, click and hold the mouse button down and drag the spam message to the body of the new email you are composing and let go of the mouse button. This message will appear as an attachment. Send the message.

​
Attachment Only. The purpose of submitting the message as an attachment is so that the spam filtering service can see the header information that logs what servers on the internet the message passed through on its way to your mailbox. Without this header information it is just a waste of time to submit or forward a spam. A message that is not sent as an attachment is just ignored.

Prevention - Avoid giving out your e-mail address to any entity that might abuse it. Avoid other scenarios when possible where your e-mail address may be "harvested".

Do not Post it on Websites - unless there is a real legitimate need for people to get in touch with you from that site.
- Many spammers have webbots that will scan the Internet for any e-mail addresses.
Do not Forward Chain Letters - forwarded jokes and other messages often have a whole string of e-mail addresses that spammers can collect.
- For business messages that you do send to others, be mindful of other people's addresses that are included.
- Use the BCC: field instead of To: or CC: if sending to people who's e-mail address you may want to keep hidden.
Avoid Using for Non-Correspondence Activities - for registrations or other times when asked for an e-mail address if you don't see a future need for correspondence, give a throw-away Yahoo or Hotmail account that you can check if needed but that you don't mind if spammers get ahold of the address.
Get Rid of Old Addresses - if you have old addresses associated with your mailbox, that you no longer need - such as UserID@lsumc.edu, ask that they be removed from the account.
Don't Unsubscribe - if you get junk e-mail that says you can unsubsribe to avoid future mailings, don't. Submitting an unsubscribe simply confirms that you have an active mailbox, and are actually reading their spam. The only time you should unsubscribe is if it is a reputable company, or one that you really did subscribe to their mailings.


Outlook Web Access and Basic Outlook Blocking - Note: Blocking Senders with Outlook should not be needed since IronPort is now filtering nearly all spam messages coming in. However, if you have a persistent problem, targeted Outlook blocking can help.
- It is better to forward spam messages you receive, AS ATTACHMENTS, to spam@lsuhsc.edu to aid in future blocking.
- Configure Safe Senders, Safe Recipients, Blocked Senders etc.
- Settings below can be configured with Outlook (under Tools, Options, Preferences, Junk E-mail...) or with Outlook Web Access (under Options, Privacy and Junk E-mail Prevention, Manage Junk E-mail Lists...)

Safe Senders - used to allow specified senders or domains to send messages without being filtered
- e.g. someone@example.com, @example.com, example.com
Safe Recipients - used to allow mail addressed to specified recipients or domains to be delivered without being filtered
- e.g. sent to a distribution list that you belong to and trust.
Blocked Senders - used to block individual senders, or sender domains
- e.g. someone@example.com, @example.com, example.com
International - used to manage international spam
- The following features are available in Outlook, not in OWA:
- Blocked Top-Level Domain List - used to block messages by top-level country code - e.g. user@domain.co.uk
- Blocked Encodings List - used to block messages based on language coding scheme - e.g. Cyrillic or Korean


Outlook Junk Mail Filter - if you are running Outlook (not OWA), and using Cached Exchange Mode (not Online Mode), or if running Outlook, and the default delivery location is a PST file, then Outlook can also perform Junk E-mail Filtering to supplement the basic blocking listed above.
- It is best to forward spam messages you receive, AS ATTACHMENTS, to spam@lsuhsc.edu to aid in future blocking - even if it shows up in your Junk E-mail folder.
- Occasionally, legitimate email might be routed to your Junk E-mail folder and you may need to check this folder for missing messages.
- The Junk E-mail Filter is updated automatically on LSUHSC systems or by running Microsoft Update - http://update.microsoft.com/microsoftupdate on personal systems.
This will keep the heuristics current, and Microsoft is continuing to improve blocking based on feedback from thousands of MSN and Hotmail clients.

No Automatic Filtering - Safe and Blocked lists are still used, but Microsoft Junk E-mail Filter is not used.
- Only use this setting if you do not want to check your Junk E-mail folder and don't mind spam being delivered to your Inbox.
Low - There are fewer "false positives" in your Junk E-mail folder, but more spam gets through to your Inbox.
High - More spam is caught, but there is also more chance for legitimate mail to be caught. Check Junk E-mail folder more often.
Safe Lists Only - Warning: Only mail matching your safe lists gets through. All other mail is sent to Junk E-mail.
Permanently delete suspected junk e-mail
- You should not do this, since there is always the possibility of legitimate mail being classified as junk.
- Legitimate mail found in the Junk E-mail folder can be used to create new entries in Safe Senders or Safe Recipients.


Outlook Rules Wizard - can be used to create custom rules to block specific words or phrases that you find offensive.
- Treat these messages like any other Junk, and move it to your Junk E-mail folder. Do not delete, or you may lose legitimate mail.

Be Careful what You Ask For - Make sure your rules will not catch legitimate mail. Be specific.
Check Your Work - Test your rules, and then check your Junk E-Mail Folder often to make sure you don't miss legitimate mail.