LSU Health FileS - FileSharing Solution
LSU Health FileS is a resource that allows LSUHSC users to send and receive large attachments with external users.  Requests will be initiated by LSUHSC users, and notifications will be sent out by email.  Click on a link to see the messages to expect, and the steps needed to share files.
Sending Large Files with Web Interface
1. LSUHSC users can send an email notification to external users requesting that files be uploaded onto our server.  The external users can click a link to get to the interface, and then upload the files that they wish to share.  These notifications will look similar to this: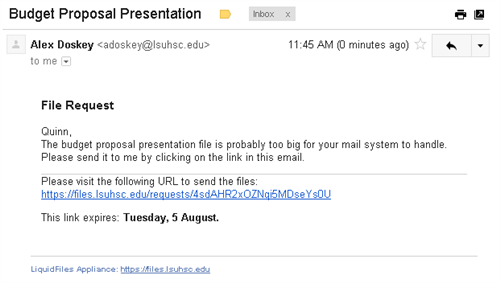 2. Click the link as directed in the email notification.
3. The results will depend on whether or not you have an LSU Health FileS account on the LSUHSC servers:
    - If you have an LSU Health FileS account, you will be prompted for your email address and the password that you chose when your account was created.  After loginyou will get the page where you can download your files.
    - If you do not have an LSU Health FileS account, the web page will prompt you for your email address to confirm that you are the recipient.  You will not need to enter a password, but you will need to use the same email address that the notification message was sent to.  You will then receive another email notification with a Validation Link that you can click, and a Validation Code that you can enter into the webpage you already have up.  Either method will get you to the page where you can upload your files.