LSU Health FileS - FileSharing Solution
LSU Health FileS is a resource that allows LSUHSC users to send and receive large attachments with external users. Below are tutorials for common tasks or questions. Click on the method you prefer to learn (i.e. Web or Video). If you have any questions contact Postmaster@lsuhsc.edu
Some users will have the Outlook plugin for LSU Health FileS pushed out to their computers. All users should also familiarize themselves with using the Web Interface, in case they find themselves working at a computer without this plugin.
1. In Outlook, start a new message and look for the icon below if the plugin has been pushed to your computer. The Icon will be on the Message tab, not the Insert tab. Note: hovering your mouse over these icons and clicking the links for LSU Health FileS Outlook Plugin or for Tell me more will bring up help documentation for Outlook, not for LSU Health FileS. This is a limitation on the Microsoft Office ribbon, and cannot be controlled by 3rd party add-ons.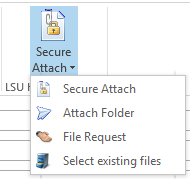 2. To attach one or more files, click on the Secure Attach button. You can click the drop-down below Secure Attach for more options. Click Attach Folder if you want to send all the files from a single folder. If you wish to re-send files that you have previously sent with LSU Health FileS, click on Select existing files and choose the files you want to re-send.
3. When you first use the LSU Health FileS plugin in Outlook, or if you have logged out from the server you may see a prompt for you to login. Click "Sign in automatically". If you ever see a login prompt that requests for you to enter your credentials to log in, please contact your local computer supporter, and they can help you get your configuration set up correctly. Password.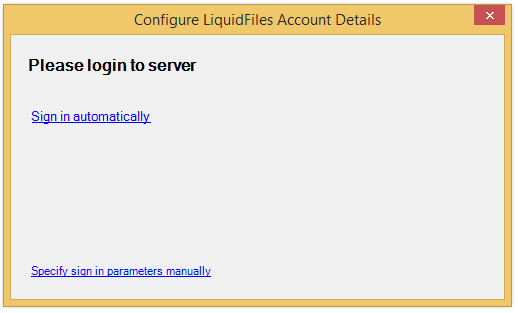 4. When attachments have been added, you will see an LSU Health FileS Transfer Panel that can be used to add additional attachments. Click "Secure Attach" to add individual or multiple files. Click "Secure Attach Folder" to attach all the files within a folder.


5. You can also specify who is authorized to access the attachments - a) Only specified recipients of your e-mail, b) Local (LSUHSC) users and specified recipients, c) any Authenticated LSU Health FileS users (both internal and external), or d) Anyone. If you grant access to others, besides your e-mail recipients, they will still need the links in order to access the attachments. The default setting of Only specified recipients will generally be appropriate.
6. Note that the files shared through LSU Health FileS will expire from the server automatically after a set period of time to free up space for future use. You can shorten this expiration time if you choose.
7. Compose your e-mail as usual, including the Recipients you wish to send to, Subject and Message Body. It is generally preferable to include an informative message to your recipients in the body of your e-mail so that they will know what is going on, and not be confused into thinking this is a spam message.
8. When you are satisfied with the message, click the Send button. In some cases, you may get a reminder notice from Outlook that you have forgotten to attach a file. This can occur if Outlook determines from your message content that you meant to include an attachment, but in this case we are only including links to the files on the LSU Health FileS server.