Campus Assistance Program (CAP)
The mission of the LSUHSC Campus Assistance Program (CAP) is to support the mental, emotional, and physical well-being of students, faculty, staff, and immediate family members in order to promote the overall health and effectiveness of the LSUHSC-NO community.
The Campus Assistance Program is a free service provided by LSU Health Sciences Center at New Orleans to assist faculty, staff, residents, students and their immediate family members in resolving personal, academic or work related problems. Faculty, staff or residents who are enrolled or employed with LSUHSC-NO programs in other cities are also eligible for CAP services.

LSUHSC-NO recognizes that everyone, at sometime, needs a "helping hand" or assistance. Whether you have a simple or a complex problem, the Campus Assistance Program can help.

A counselor is on call 24 hours a day to assist in time of crisis. If you feel you have an emergency or need immediate assistance at any time, contact the counselor on call by following the instructions on the main line (504) 568-8888.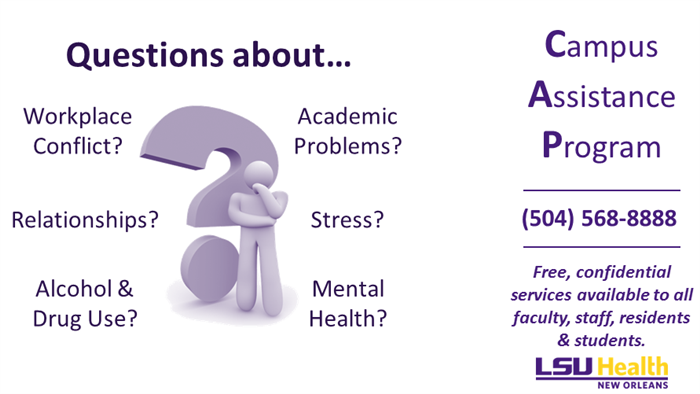 CAP Location and Contact Information
Human Development Center
411 S. Prieur St., Suite 233
New Orleans, LA 70112
*Appointments also available at the Dental School location -
Call for further details.
Phone: (504) 568-8888
Email: cap@lsuhsc.edu

Types of Problems
CAP is a resource that offers individuals assistance with solving life, school and work problems. Any problems, regardless of severity, that are interfering with one's peace of mind or personal effectiveness are appropriate to bring to this service. The counselors will work with you to either resolve the problem, or find the resources in the community to help you. The program also offers assistance to supervisors who are working with troubled individuals. Examples of problem areas include:
Crisis Management

Mental Health

Interpersonal / Family Relationships

Child / Adolescent Development

Workplace Conflict Resolution
Job Productivity

Career Satisfaction

Alcohol and Other Drug Use

Loss / Bereavement

Financial

Confidentiality
Use of program services is voluntary. All information conveyed during use of the services, including use of the service itself, is confidential.

Services
24-Hour Crisis Line ► A counselor is on call 24 hours a day to assist in times of crisis.

Community Information ► The Campus Assistance Program maintains up-to-date lists of community resources, treatment programs and agencies. If you are looking for a community resource, Campus Assistance Program will work with you to find the best resource in the community that can help you.

Problem Assessment ► A counselor will help you clarify the nature of your problem and develop a plan to resolve your problem.

Short-Term Counseling ► Short-term counseling for problem clarification is available through the Campus Assistance Program. If after talking with the counselor, a referral to a specialist within the community is needed, one will be made for the best cost-effective treatment of your problem.

Cost
Services are provided at no cost to the client. If a referral is made to a resource outside of the Program, the cost of that service is the responsibility of the client. Such costs may be covered by health insurance.

Staff Members
Click here for a list of Campus Assistance Program staff members.

Administrative Assistance Program and Formal Referrals
The Campus Assistance Program offers supervisory consultation and assistance making formal administrative, fitness for duty or violence in the workplace referrals.

For instructions on how to make a formal referral to the Campus Assistance Program, see "LSUHSC Supervisor's Instructions" below.

Forms
Searching for an LSUHSC CAP Form? Click on a desired link below:

Administrative Referral Form - Electronic Form (Google Chrome recommended) OR Print and complete by hand
LSUHSC New Orleans Supervisor's Instructions - Drug Testing and Fitness For Duty (Call Us At 568-8888)
LSUHSC Baton Rouge/Lafayette/Other Supervisor's Instructions - Drug Testing and Fitness for Duty

---
If you have questions or comments about our website, click here to contact us. We appreciate your feedback.