Past Issues
September 2017 - Alma Nixon - In Memoriam and Recognition of Service
Alma Nixon began her nursing career with a BSN from Dillard University in 1974 later earning a Master of Nursing from LSU with a psychiatric nursing specialty (Clinical Nurse Specialist). She was a member of Chi Eta Phi Sorority. Her greatest love was the practice of psychiatric nursing which began at the University of South Alabama Medical Center in 1976 and continued until her death June 19, 2017. She had a passion for teaching psychiatric nursing to future nurses. She started teaching psychiatric nursing at Charity Hospital School of Nursing in 1977 and continued her career teaching at Delgado Community College as well as LSUNO School of Nursing. She contributed over 30 years of practice and teaching to the career she loved. She will be missed by all at LSUNO School of Nursing as well as LSUNO Faculty Senate where she was a current Senator representing the School of Nursing.
June 2014 - Report from the 2014 Regular Legislative Session
June 2014 - Higher Ed Pension - New Law
Advocate article from June 16th.
March 2014 - More ORP information
Excerpted articles from the LSU Faculty Senate Newsletter.
Focus on the FISC: a Publication for the Louisiana Legislature by the Legislative Fiscal Office, see pages 7-8, "Decrease in ORP Normal Cost Contribution Rate" - written by Charley Rome, a fiscal analyst for the Louisiana Legislature.
February 2014 - Proposed changes to ORP
Documents pertaining to the proposed changes to employer contribution to the Optional Retirement Plan (ORP), effective July 1, 2014. Employees participating in ORP will see a reduction from the current rate of 5.1839% to 3.6658%.
Southern States Retirement Contribution Comparison (also available as a PDF below)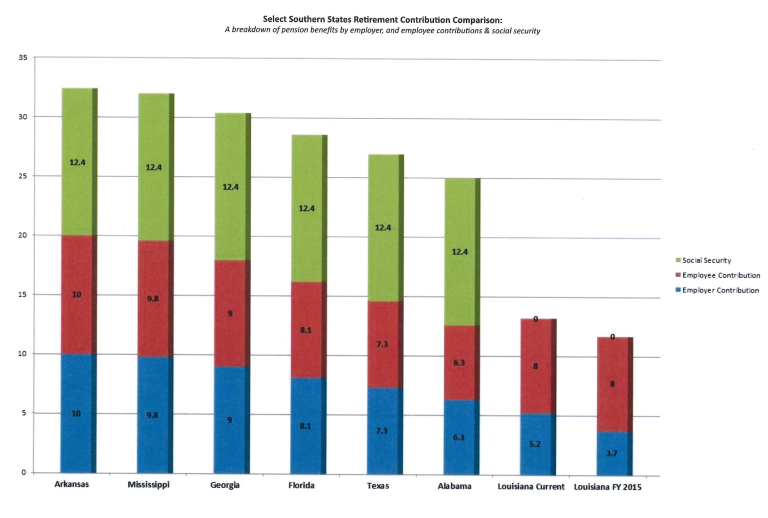 For additional information, contact LSUHSC Benefits and/or TRSL Board of Trustees.
---
Last updated: April 2023
Updated by FS Webmaster