Microsoft FindTime
What is FindTime?
FindTime is an Outlook add-in for scheduling meetings built to make it easier to schedule meetings with users outside of as well as within our institution. FindTime allows the meeting organizer to send multiple time options that attendees can vote on through a web interface in order minimize scheduling effort. Once the votes are cast meeting invites can automatically be dessimnated. You can watch a demo of FindTime via this YouTube video.
To learn more about Microsoft FindTime from Microsoft, you can use the link below: (Click on How it Works on top of the page to read the documentation without Signing In.)
https://findtime.microsoft.com/
FindTime Best Practices
Send FindTime polls to invididuals. Not distribution groups.
Do not change the recipients list after creating the FindTime poll.
Pay close attention to the settings that appear after selecting available times: (screenshot)

You may want to tweak the default settings so that:

A Teams meeting is not generated
A meeting is not automatically scheduled when a consensus is reached
The potential times of a meetings are not held on your calendar
Install FindTime
Installing FindTime in Outlook for the web
Open Outlook for the web in your browser via https://lsuh.sc/o365mail/ 
Select New Message to open a new email.
On the bottom of the page, to the right of the Send and Discard buttons, select the ellipses button (…) and then select Get Add-ins.

           If you do not see a Get Add-ins option in the ellipses menu, Click on the Add-ins icon. 

       4. Search for the FindTime add-in.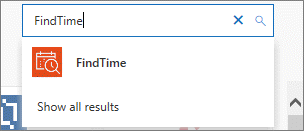 5. To use the app, click the ellipses button (…) again from a message and select FindTime.

---
Installing FindTime in Outlook Desktop
Open Outlook.

Go to Home> Get Add-ins.


 

If you don't see "Get Add-ins" you may need to select the "..." in order to find "Get Add-ins"




 

Search for the FindTime add-in.


 
Select Add.
 
You will now see the FindTime Reply with Meeting Poll in the Home tab.

​​​​​​​
---