InterProfessional Student Alliance (IPSA) email: ipsa@lsuhsc.edu
   
 2020-2021 IPSA Board Officers:
President - Muhammad Farooq
School of
Allied Health - Emily Calloway
Dentistry - Marco Gargano
Graduate Studies - Daniyell Thomason
Medicine - Kelly Chau
Nursing - Megan Koch
Public Health - Caitlin Sullivan
If you are interested in receiving IPSA newsletters via email, please sign-up here.

About IPSA: 
In 2011, Jarratt Pytell, a second year medical student, recognized the importance of preparing future health care leaders through interprofessional training and exposure to interprofessional collaboration. Jarratt's proposal was titled "Training Interprofessional Students in Cultural Competencies While Educating Our Community's Adolescents To Reduce Risky Behaviors."  His idea was to create a program named Healthcare Student Training and Community Outreach, which was focused on aiding interprofessional student training through real-world experience while also improving the health of community members through education. Specifically, Jarratt's proposal was to reduce the incidence of sexually transmitted infections and teen pregnancy through an educational program, now known as the New Orleans Adolescent Reproductive Health Program (NOARHP). In 2012, Jarratt's vision of developing an student interprofessional program, the Interprofessional Student Alliance (IPSA), was established. Between 2012 and 2014, three community-based projects that encouraged participation from all six Schools (Allied Health, Dentistry, Graduation Studies, Medicine, Nursing and Public Health) were formed. While independently successful, project leaders understood the value of uniting the existing service projects under one umbrella. In 2015, IPSA was a recipient of the Alpha Omega Alpha award.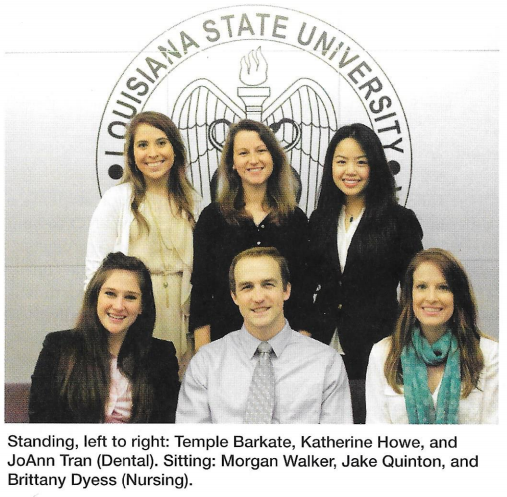 Under the leadership of Temple Barkate, Katherine Howe, JoAnn Tran, Morgan Walker, Jake Quinton and Brittany Dyess, IPSA developed a plan to address health disparities in the greater New Orleans area through interprofessional student teams serving local underserved communities. What once started with one institution, LSU Health-New Orleans, has grown to include student membership from Xavier University College of Pharmacy and Tulane University School of Medicine. The purpose of IPSA is to function as a student-run initiative "incubator", providing interprofessional leadership development and faculty support to service projects. Projects are student led, encourage interprofessional participation, and bring IPSA's mission to life within our community, both on and off campus.