Team Up™ Faculty Graders
Team Up™ is a two-year longitudinal education experience integrated in the curriculum of all six LSU Health Sciences Center schools for first- and second-year students. Students from 19 different programs are placed in teams, ranging in size from 12-15 persons. While developing effective communication and collaborative skills, students also enhance their knowledge about professional roles through case-based learning. With over 1,500 students enrolled in Team Up™ each year, providing meaningful feedback on individual and team assignments and reflections takes a cooperative effort from our Faculty Graders in all six schools.
Our Faculty Graders are paired with two student teams for the academic year and grade assignments in Moodle (approximately once per month). This equates to a time commitment of 3 hours during the fall semester and 9 hours during the spring semester for Year 1 or 6 hours during the fall and 7 hours during the spring for Year 2. The time commitment of Faculty Graders is minimal in comparison to the level of expertise and insight they provide to our students.
Additionally, Team Up™ Faculty Graders will have opportunities to participate in scholarly activity (educational research) associated with the interprofessional experiences of the IPECP office.
If are interested in serving as a Team Up™ Faculty Grader, please contact Tina Gunaldo (tgunal@lsuhsc.edu) to receive more information.
---
Roles & Responsibilities
Grade assignments within the required time frame (email reminders and Outlook calendar invitations are provided).

Grading occurs monthly.

Provide meaningful feedback to individual students and student teams.

Acknowledge outstanding/exceptional student reflections to CIPECP office for further recognition.

Share with IPECP if student response to assignment is unprofessional (it is acceptable for a student to write about a negative Team Up experience in a professional manner).

Alert IPECP office if student response indicates their team may need support.
---
Faculty Grader Spotlight
We would like to recognize the following Faculty Graders for their commitment to student learning and interprofessional education. These Faculty Graders have worked with students in Team Up™ for 5 and 6 years!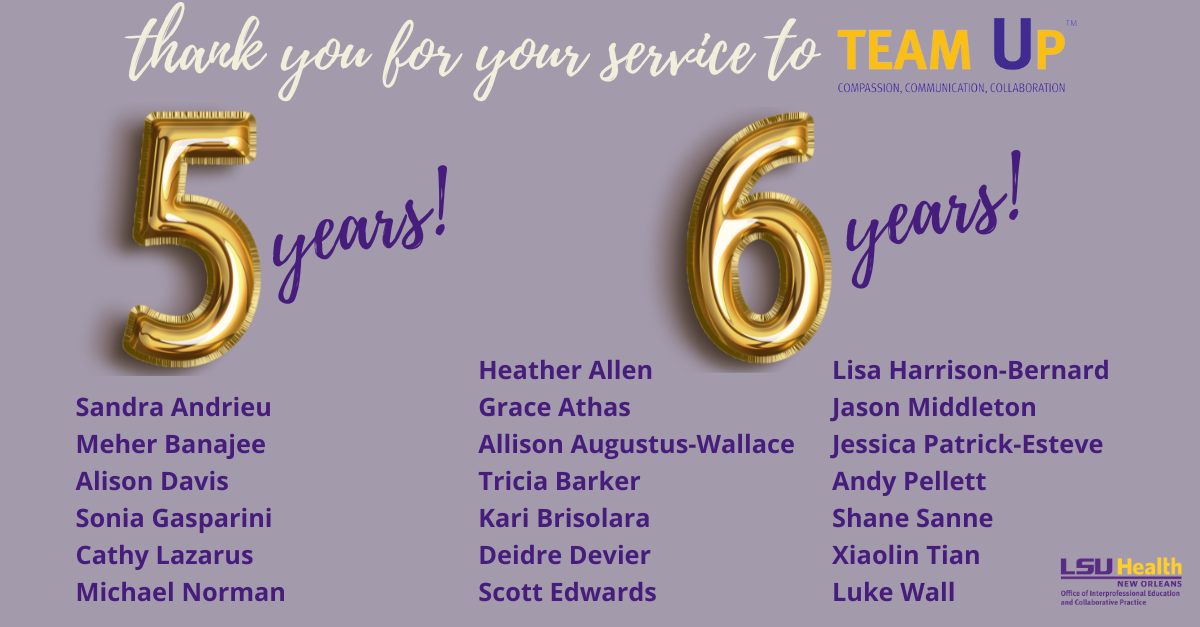 ---