Interprofessional Scholars Program
The purpose of the IP Scholars Program is to broaden the pre-health professional's interprofessional lens in education, scholarship, leadership and/or practice. Scholars will choose three pillars to explore, and then select 1 experience from each pillar. Learners can choose from a menu of existing learning opportunities (see Table below) or create self-generated experiences with approval from their mentor. The goal of the program is to support the development of future champions of interprofessional collaborative practice focused on improving client/patient and population outcomes. Through the IP Scholars Program, learners will enter a continuous cycle of discovering new interprofessional knowledge, applying the new knowledge, and synthesizing the new knowledge through integration of prior knowledge.
A mentor will be assigned to each Scholar to support the development of a meaningful learning road map and to help keep the learner on track for successful completion. The learner will decide with their mentor the best option to express their learning for each activity (written reflection, journaling, video, verbal conversation, etc.). Learners will be expected to share their overall experience and learning at the completion of the program with the IPECP Faculty Council. After program completion, a letter of recognition is sent to the student's respective Dean and Department Head. Additionally, students achieving the IP Scholars designation will be recognized for their accomplishment during pre-commencement ceremonies.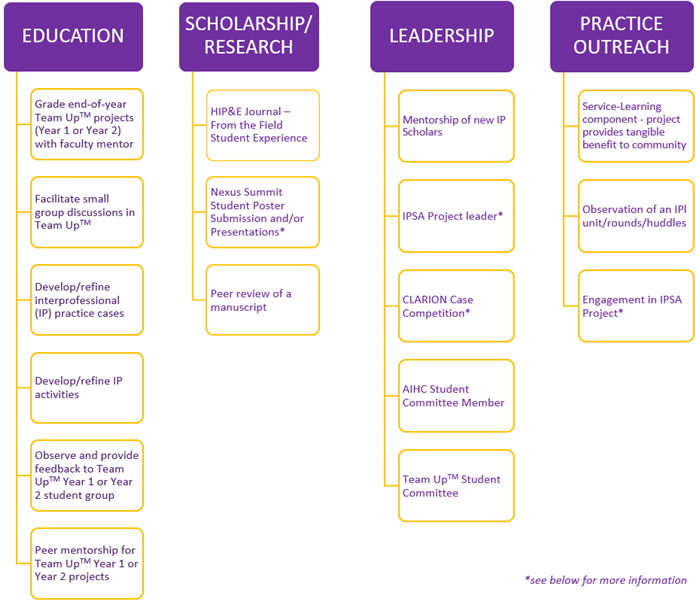 Thank you to Chrissie Alving-Trinh, Caitlyn Gallaspy, Shivani Jain and Brock Williams (students) for their time and effort in the initial creation of the program; and Colette Baudoin, Michael Norman and Xiaolin Tian (faculty) for sharing their expertise with the students.
---
IP Scholars Opportunities
Nexus Summit - This is a national interprofessional annual conference where there is aa specific stdent poster submission type.
CLARION Case Competition - This is the national IPE case competition. Participants receive a case and work together to create a root cause analysis.