IPSA Awards
IPSA presents two awards to students across all six LSUHSC schools: the IPSA Award Award of Interprofessional Distinction and the IPSA Leadership Award. The purpose of these awards is to recognize students for both their volunteer interprofessional service work and/ or their leadership in interprofessional education.

The IPSA Award of Interprofessional Distinction is given to graduating students who have extensively volunteered in IPSA service projects and/or participated in IPSA leadership workshops.

The IPSA Leadership Award is given to student leaders regardless of graduation year who have gone and beyond their role in interprofessional service work in the community, including both at LSUHSC and in the Greater New Orleans area.
Recipients of the 2017 IPSA Leadership Award are:
Aaron Lin, LSUHSC-NO School of Medicine, graduating May 2018
Catherine Chappuis, LSUHSC-NO School of Medicine, graduating May 2018
Celestine Compton, LSUHSC-NO School of Allied Health, Physical Therapy, graduating May 2017
Eleanor Olson, LSUHSC-NO School of Allied Health, Occupational Therapy, graduating May 2017
Farinaz Khan, LSUHSC-NO School of Medicine, graduating May 2018
Hunter Hopkins, LSUHSC-NO School of Medicine, graduating May 2018
Katherine Howe, LSUHSC-NO School of Medicine and School of Public Health, graduating May 2017
Kathryn diLosa, LSUHSC-NO School of Medicine, graduating May 2019
Kristin Cornwell, LSUHSC-NO School of Public Health, Epidemiology, graduating May 2017
Nicole Koppi, LSUHSC-NO School of Nursing, graduating December 2018
Samantha Karlin, LSUHSC-NO School of Medicine, graduating May 2018
Samantha Spiers, LSUHSC-NO School of Public Health, Biostatistics, graduating May 2017
Stephen Patin,  LSUHSC-NO School of Public Health, Epidemiology, graduating May 2017
Vanessa Shields, LSUHSC-NO School of Nursing, graduating May 2017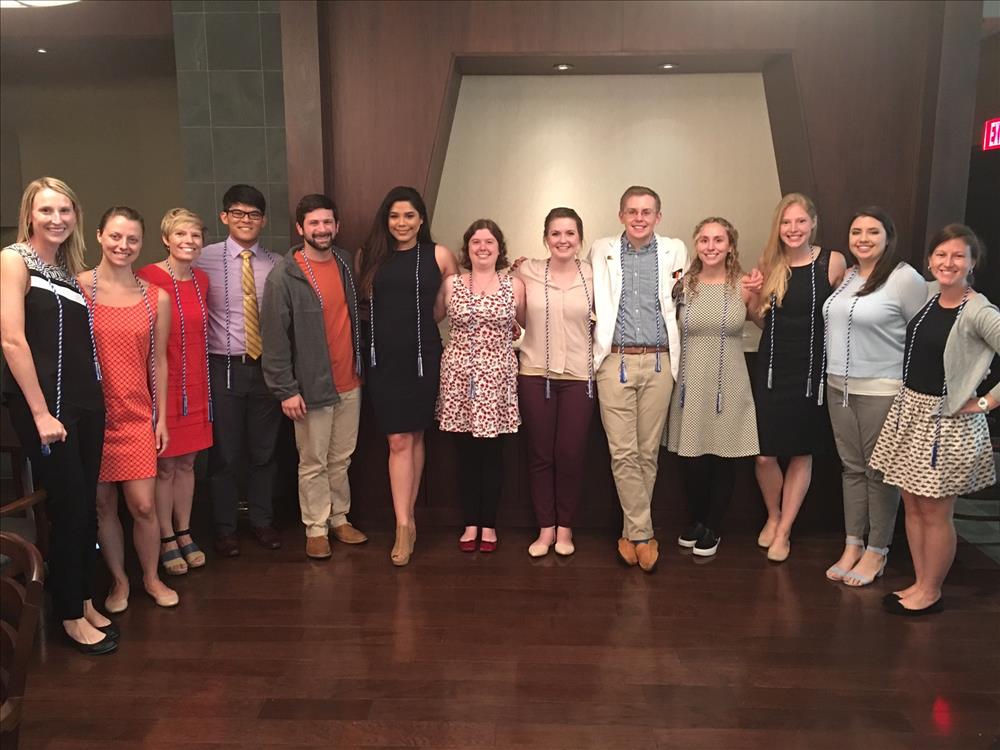 (L-R) Samantha Karlin, Celeste Compton, Vanessa Shields, Aaron Lin, Stephen Patin, Nicole Koppi, Samantha Spiers,
Kathryn Di Losa, Hunter Hopkins, Catherine Chappuis, Eleanor Olson, Kristin Cornwell, Katherine Howe