Students for Sustainability
Students for Sustainability was started in 2015 when a couple students were looking for an outdoor place on campus to eat a salad. After many months of negotiations and work, Students for Sustainability was formed. Today, we manage the Raised Root Student Garden located between Stanislaus Hall and the Clinical Education Building, as well as student-run projects that promote sustainable activities around campus. Current projects include expanding the LSUHSC recycling program to include all schools, as well as a styrofoam reduction initiative in the Tiger Den Cafe. We are also partnered with Second Harvest Food Bank to offer Cooking Matters classes in the garden.  Cooking Matters is a nationally recognized curriculum that teaches cooking skills, shopping on a budget, and healthy eating habits to low-income families.
For more information or if you are interested in getting involved in this community service project, please contact a student leader noted below.
Student Leader:
Hannah Kramer (hkram1@lsuhsc.edu)
Faculty Advisor:
Dr. Donna Williams, MPH, DrPH (dwilli3@lsuhsc.edu)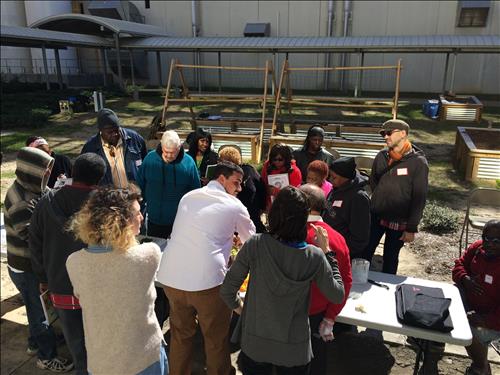 Participants watch as fresh food is prepared in the garden.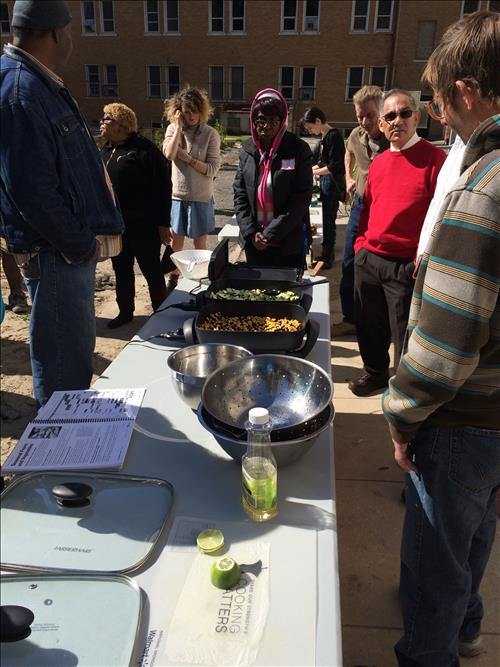 Great techniques to create delicious, fresh, and healthy food.