Cooking Matters in Raised Root Student Garden
Raised Student Garden (RRSG) is partnering with Second Harvest Food Bank to offer Cooking Matters classes in the garden.  Cooking Matters is a nationally recognized curriculum that teaches cooking skills, shopping on a budget, and healthy eating habits to low-income families. LSUHSC interprofessional students are trained to deliver curriculum to participants in a hands-on, participatory approach, allowing both student volunteers and community participants to increase their nutrition knowledge and cooking self-efficacy. Participants also receive a bag of groceries to practice preparing the recipes they learned in class.  Cooking Matters has been achieving significant results since 1993, in terms of increasing meals families cook together, promoting healthier purchasing choices in the grocery store, and increasing the amount of fruits and vegetables consumed after completion of the six-week class.
Students attend a training session to learn how to develop and deliver nutrition education using the Cooking Matters curriculum (A trained chef is present during classes to lead the cooking portion).  Preparing these lessons helps to fill a critical nutrition education void in traditional health sciences coursework, while simultaneously giving students the confidence to talk to their future clients about nutrition in a way that is easily translatable to everyday life.  Additionally, the outdoor garden "classroom" setting provides an emphasis on seasonality and the importance of eating local produce.  RRSG has also added a gardening component to the course so that participants can learn more about the most nutritious and affordable way to eat healthy: growing your own food.
Our faculty advisor is Dr. Donna Williams
 
Student contact: Samantha Spiers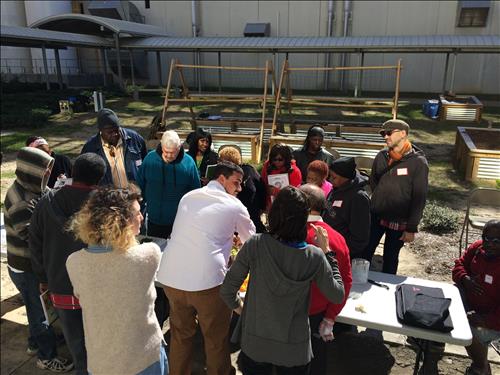 Participants watch as fresh food is prepared in the garden.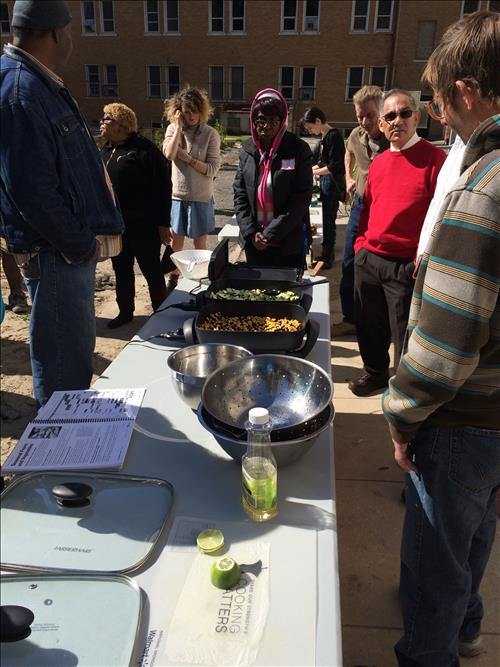 Great techniques to create delicious, fresh, and healthy food.