Make an impact in health education by sharing your story!
  
Would you like to help educate future health professionals by sharing your experiences?
The Health Partner community project at LSU Health Sciences Center at New Orleans provides students in the first year of their program an opportunity to learn together as a team about the health, health experiences, and health goals of community members. Students from various health professions will interact with and learn from their Health Partner through face-to-face opportunities. Your participation will allow students to apply the valuable information and lessons learned from their Health Partner throughout their education and practice after graduation.
Participating as a Health Partner allows you to:
Contribute to the education of LSU Health Sciences Center at New Orleans students
Share your experiences, goals, and opinions on health and healthcare
Assist in the development of team building for LSU Health Sciences Center at New Orleans students
Requirements for Health Partners
Willing to engage with students over video conferencing (Zoom, Skype, Facetime, etc.)
Meet and interact with students at least three times over the length of the program (January-March)
Must be willing to share information regarding their health, health experiences, and health goals
Participate in an optional survey regarding their experience with students
The Health Partner community program is under the direction of the Center for Interprofessional Education and Collaborative Practice (CIPECP). The goal of the CIPECP is to educate health students using a team-based approach in order to improve the health of our communities. If you have any questions regarding the program, you can email or call
Tina Gunaldo, Director                             cipecp@lsuhsc.edu       504-568-4425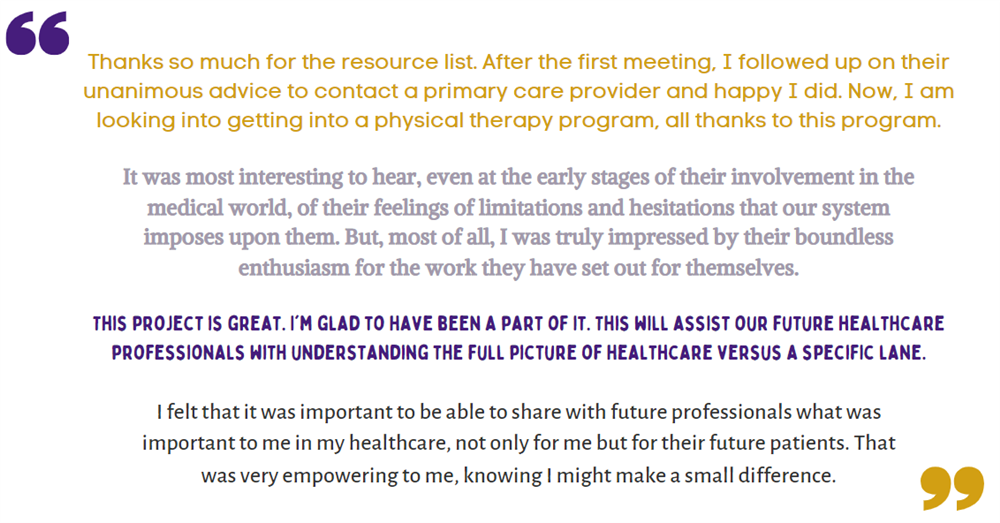 Health Partner Quotes