LSU Health PeopleSoft Student Administration
---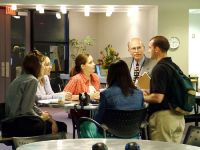 LSU Health Sciences Center has implemented the following PeopleSoft Student Administration (SA) Modules in Version 9.0:
Recruiting and Admissions: The foundation of PeopleSoft SA is the Recruiting and Admissions module. Whenever a student applies for admission to the one of the professional schools of the LSU Health Sciences Center, a new record is added to PeopleSoft Admissions.
Specific functionality includes:
Allows LSUHSC to tailor the admissions system according to school requirements and practices.
Student Records: This module manages all aspects of enrollment-catalog and class schedule maintenance, transfer credits, class start and end dates, concurrent academic programs, and analysis.
Specific functionality includes
Evaluate course credit transfers.

Calculate academic statistics and report results.

Provides for transcript production and processing of multiple requests.

Establish customized grading guidelines.

Improve record maintenance and organization.

Maintain course catalog, enrollment, and grading information in a single database.
Campus Community: This module is the common source of campus data. It captures all applicant, student, and organizational data, secures it, tracks it, and delivers what you need upon request.
Specific functionality includes:
Coordinates all forms of communication to help you manage your administrative services.

Track all incoming and outgoing communication.

Create checklists to automate activities.

Maintain multiple names and addresses with effective dates, email addresses, and phone numbers.

Manage other demographic data-residency, medical and emergency contacts.
Financial Aid: This module automates federal and institutional financial aid processing to ensure a more efficient operation. Department of Education regulations are incorporated into the software so that we remain in compliance.
Specific functionality includes:
Ability to tailor financial aid management to your business rules and practices.

Track applications, control Institutional Student Information Record (ISIR) loads, and maintain an ISIR audit trail.

Design our own cost of attendance assessment, create student budgets, and calculate needs analysis.

Automatically generate aid awards and packages.

Ensure that an award complies with eligibility, and then disburse it to the student's account.

Process and track federal, state, university, and alternative loans.
Student Financials: This module allows LSUHSC to manage and calculate all student financial information, including tuition, fees, receivables, billing and refunds.
Specific functionality includes:
Open new accounts easily.

Monitor and update student accounts.

Calculate tuition and fees on an individual or group level.

Check account balances and post transactions.