New NLM/NIH Display at the Ische Library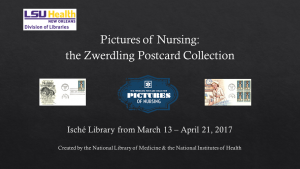 The Isché Library is pleased to host the National Library of Medicine/National Institutes of Health display: Pictures of Nursing: the Zwerdling Postcard Collection, which explores the relationship of nursing to events in 20th-century life and how nursing was perceived.  For more information on the exhibit, visit the NLM exhibition page.
The exhibit will be in the Library Commons from Monday, March 24th through Friday April 21st.