If you follow the Library's link to PubMed where you are asked to log in through EZproxy, please note there is a problem when attempting to log into your myNCBI/PubMed account using the third party/federated logins such as Google and Login.gov. After following the Library's link to PubMed and then logging into your myNCBI/PubMed account, you will most likely encounter an error message or just a blank screen.
At present, the only login that will work if you use the Library's link to PubMed is the old NCBI account login, but only if you went through the transition steps before this login option was phased out in June.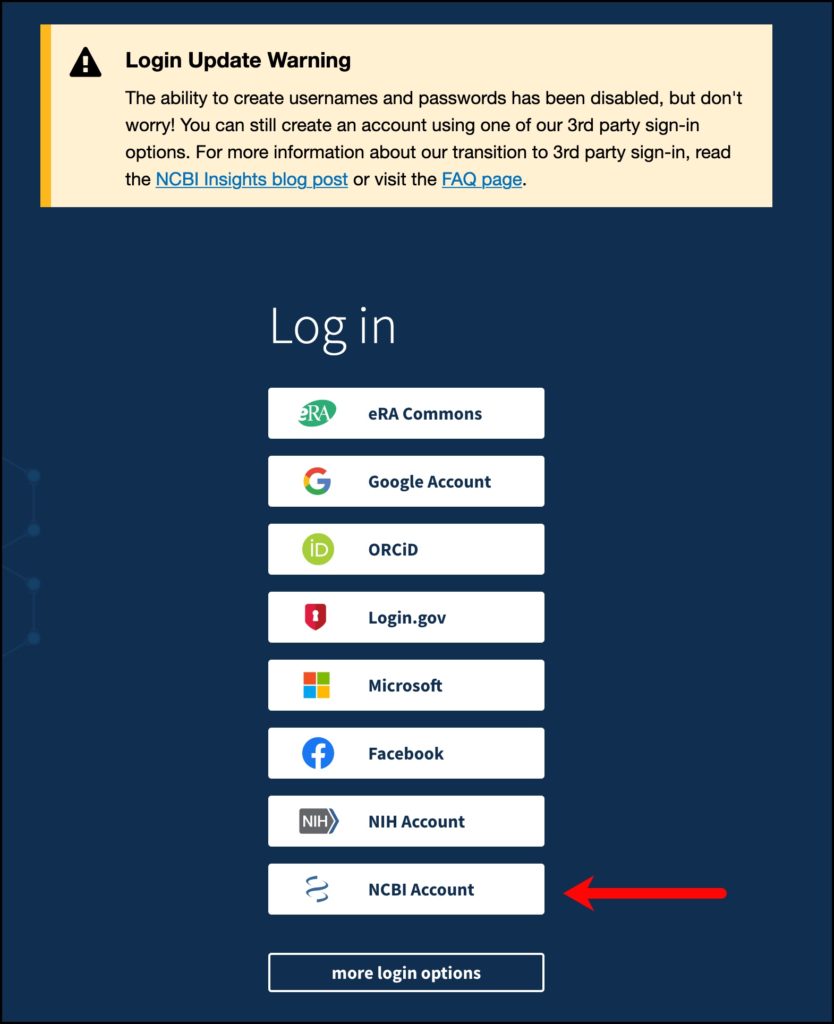 If you did not transition this account, you will not be able to create a new one at this time.
Please remember that creating a myNCBI/PubMed account will not grant you access to journals. This account just provides the ability to save searches and create search alerts.
However, if you would like to use your myNCBI/PubMed account and have easy access to articles in journals the Library subscribes to, we recommend the following:
Install LibKey Nomad in your browser; it can be used in Chrome, Firefox, and Edge; you can also install LibKey Nomad in Chrome found in your Citrix desktop
Go directly to https://pubmed.gov
Log in to your myNCBI/PubMed account using the federated method you choose (Google, Login.gov, etc.)
With these above steps, you will have easy access to full text with LibKey Nomad yet still have the ability to work with your myNCBI/PubMed account.
Additionally, please note that we do not support the Research Institution login at this time. As a result, you will need to use one of the other login options listed for the myNCBI/PubMed account. We will update when there is a change to this.
If you need any help with this or any other Library resources, please contact us.