September's Diversity and Inclusivity Book Club Pick: Diversity Visibility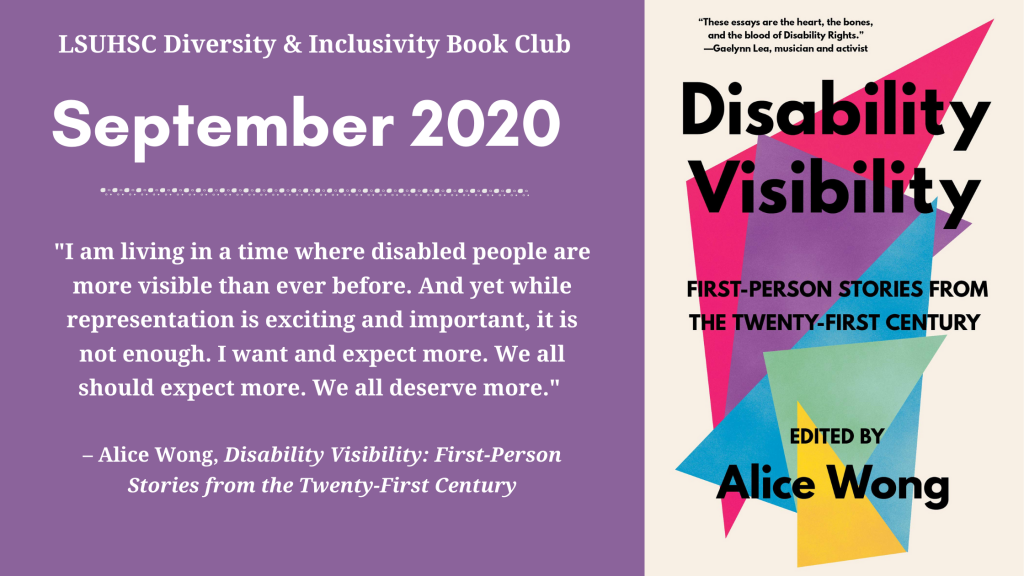 "I am living in a time where disabled people are more visible than ever before. And yet while representation is exciting and important, it is not enough. I want and expect more. We all should expect more. We all deserve more." – Alice Wong, Disability Visibility: First-Person Stories from the Twenty-First Century
This month the Diversity and Inclusivity Book Club, hosted by the School of Public Health's Diversity and Inclusivity Committee, discussed Disability Visibility: First-Person Stories from the Twenty-First Century edited by Alice Wong as its September read.
Disability Visibility  is a collection of essays by disabled people, written in part for the 30th anniversary of the Americans with Disabilities Act. Disability Visibility provides readers a chance to hear a wide-range of first-hand stories about living with disabilities in the modern era.
Although the discussion may have ended, your access to Diversity Visibility hasn't. The library provides access to an eBook version through EBSCO, with a limit to one user at a time.
For more about the Diversity and Inclusivity Book Club, including information on next month's Book Club pick and meeting time, visit the Committee's page on the School of Public Health Website or email sphdiversity@lsuhsc.edu.