New Display!
There is a new display that highlights the Library's Digital Collections!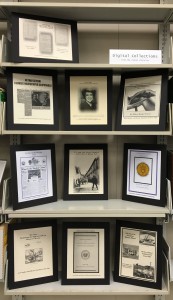 The display gives a preview to all of the collections that are available online, complete with links to the sources. Please note that along with the rest of Louisiana Digital Libraries, our collection will be moving to a new platform this summer. The links that are shown on the displays will not be affected by this change.
The Digital Collections includes:
Aristides Agramonte Yellow Fever Collection
LSU Health Sciences Center New Orleans Newspaper Clippings
LSU Medical Center 1991 Commencement address by Lindy Boggs
William Branks Stewart Collection
Tiger Rag – Student newspapers of LSU School of Medicine, New Orleans
U.S. Army 64th General Hospital, organized by LSU Medical School
LSU Health Sciences Center New Orleans – Catalog and Bulletin
The STAR: Radiating the light of truth on Hansen's disease
LSU Medical Center, New Orleans – Graduation Programs
LSU School of Dentistry Historic Photographs
Enjoy!