Alferez Documentary at Po'boy Fest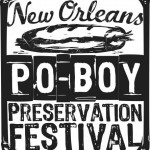 Enrique Alferez, the sculptor who designed the "Conquest of Yellow Fever" frieze in the library commons, will be the subject of a documentary at the 2010 New Orleans Po-Boy Preservation Festival.
ÔÇ£Enrique Alferez, SculptorÔÇØ (1989) will be shown at 6pm on Sunday, November 14 at 8325 Oak Street (the former Armstrong-McCall Beauty Supply store, located next to Frenchy's Gallery and across from Maple Leaf Bar and Jaques-ImoÔÇÖs Caf?®).
A University of New Orleans production, the half-hour video profiles Alferez and his career predominantly in his own words, combining interviews with footage of the sculptorÔÇÖs pervasive public art in New Orleans.
Along with the documentary – which hasnÔÇÖt had such a screening in decades – filmmaker Matt Martinez and the artist's daughter Dr. Tlaloc Alferez will provide additional information on Alferez and his work.
More info: http://www.poboyfest.com/events