ScienceDirect Save Issues
ScienceDirect has a couple of bugs that make simply saving an article difficult. While the save icon may appear once you have opened the PDF of an article; clicking the icon does nothing. Of course, sometimes the icon doesn't appear at all. Here are some work arounds to actually save your article.
Method 1: Right Mouse Click Save – Right mouse click over the PDF link in the Table of Contents display and choose "Save Target As." This will save the PDF to your specified location. Be sure to change the default name. Unfortnately this method does not work on the Library public computers.
Method 2: Print & Re-Scan – Print the article & re-scan if you need an e-copy. Unfortunately this is wasteful.
Method 3: Print Virtually – If you have virtual print software (Adobe Acrobat but not Adobe Reader) loaded on your computer. Open the article. Click print, but select Print to PDF to virtually print the item to a new location. There are a number of free programs to accomplish this task.
Method 4: PDF Downloader – To use the ScienceDirect PDF Downloader, verify which articles on a Table of Contents page, you want.
a. Use the check boxes on the left, to select.
b. At the tope of the page is a link to the PDF downloader (see image below), click on this link.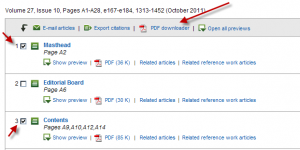 c. A java update may need to Run to use the downloader.
d. A new popup box will appear that will allow you to select the naming convention and location of the download.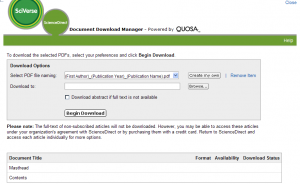 e. This method does not work with all browsers.
Method 5: Email – Once the PDF is opened, select the Send icon from the top. You must have a default email client (not web-based email) for this method to work. Click Attach to Email & Send Copy (see images below).
| | |
| --- | --- |
| | |
We are working with Science Direct to correct these issues.