Practice Anatomy with Winking Skull
Here's an anatomy site that is fun and educational at the same time.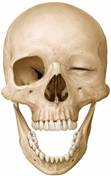 WinkingSkull.com is an online study aid for anatomy. It's provided through Thieme publishing, which also provides online atlases to our library users.
Offering several levels of access (my personal favorite is FREE), Winking Skull features stunning illustrations from Atlas of Anatomy, based on the work of Michael Schuenke, Erik Schulte, and Udo Schumacher. Once you've created a user name and password, it's fast and easy to create exams based on region of the body. There's a self study mode as well as a timed assessment feature, and your statistics are saved so you can see what you need to work on.
246 images are offered at the free level, but if you personally own either Atlas of Anatomy or Anatomy Flash Cards: Anatomy on the Go, you get access to the "Plus" version: 363 images from Atlas of Anatomy. For those who really want an extra anatomy study aid, there is a "Pro" account available for a monthly subscription. Freaking out about that anatomy exam? There's even a 24 hour "Panic Package"
BOTTOM LINE
Winkingskull.com features a witty name, a 246 free anatomy images, and a great interface with wonderful pictures. Next time you're bored in lecture, check out this game instead of MineSweeper.
DETAILS
-Requires creation of user profile (free)
-Free version offers 246 images
This post is simply an FYI and should not be taken as a product endorsement.