2013 LSUHSC Campus-wide Book Club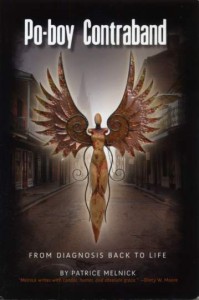 The John P. Isch?® Library is proud to promote this yearÔÇÖs campus-wide book club!
The book: Po-Boy Contraband: From Diagnosis Back to Life
The author: Patrice Melnick
The date and time: Thursday, November 14 from 12:15pm to 1:30pm
The place: Medical Education Building, Seminar Room 4
Please plan to join your fellow readers this November for a ÔÇ£brown bagÔÇØ discussion of Patrice MelnickÔÇÖs Po-Boy Contraband. Told in memoir style, the book promises to be one of powerful, personal discovery and survival with a little New Orleans zydeco on the side.
You can purchase your own copy at the Campus Bookstore or any fine local bookseller. For more information, contact Dereck Rovaris by phone at (504) 568-4804 or by email at drovar@lsuhsc.edu.