Resources tie-in with Traveling Exhibit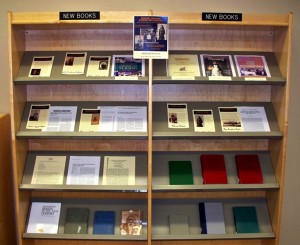 The LSU Health Sciences Center Library is currently hosting the traveling National Library of Medicine exhibition ÔÇ£Binding Wounds, Pushing Boundaries: African-Americans in Civil War Medicine.ÔÇØ The exhibit will be at the John P. Isch?® Library from September 16-October 4 and at the Dental Library from October 7-18.
In conjunction with the exhibit, the Isch?® Library has assembled a collection of resources in our collection that are directly related to the subject of African-American nurses and physicians' work during the 1860s in the War Between the States, as well as several that address minorities in the health sciences, and general works on Civil War medicine. These are currently on display in the Reference area (near the?áLibrary elevator), on the third?áfloor of the Resource Center Building. These materials include:
Stacks (Circulating) Collection Items:
Bleeding Blue & Gray: Civil War surgery & the evolution of American medicine. E 621 R93b 2005
A Century of Black Surgeons: the U.S.A. experience (2 vols). WZ 112 Or2c 1987
Civil War Medicine. E 621 B79c
Civil War Nursing. WY 11AA1 C49 1984
Doctors in Blue: the medical history of the Union Army in the Civil War. E 621 Ad2d
Doctors in Gray: the Confederate medical service. E 621 C917
Early Black American Leaders in Nursing: architects for integration & equality. WZ 112 D29e 1999
Minority Nurses in the New Century. WY 16 B29 2009
Negroes & Medicine. WZ 80 R27n
Reserves Collection Items Excerpts:
A History of American Nursing: trends & eras. WY 11 J88h 2013
Nursing: the finest art. WY 11 D71nu 2010
Pages from Nursing History: a collection of original articles from the pages of Nursing Outlook, the American Journal of Nursing, & Nursing Research. WY 11 P14 1984
Reference Collection Item Excerpt:
Historical Encyclopedia of Nursing. WY 13 Sn5h 1999
Several individuals highlighted in the traveling exhibit are profiled in the supporting display:
Dr. Anderson Ruffin Abbott: surgeon, Union officer, politician, author (1837-1913)

Dr. Alexander T. Augusta: surgeon, Union officer, activist, professor (1825-1890)

Dr. John Van Surly DeGrasse: military surgeon, activist (1825-1868)

Dr. William P. Powell, Jr: military surgeon (1834-1915)

Jill L. Newmark: exhibit curator from the National Library of Medicine

Ann Bradford Stokes: military nurse, former slave (1830-1903)

Susie King Taylor: military nurse, teacher, author, former slave (1848-1912)

Harriet Tubman: military nurse, Union spy, activist, former slave (c1820-1913)
The website for the exhibit is located here, which has detailed information and links provided by the National Library of Medicine.