New search option added to link resolver
Every now and then there is a hiccup in the process by which information goes through a number of channels in order to get you to your article when using the WebBridge Link Resolver from many Library databases. If you've seen the dreaded "No DOI found" message, you've probably wondered where to go next.

We are happy to report we have added an option that now gives you the option to get to the journal where the article you need is published if you see the above screen when attempting to retrieve an article. For those resources where the Digital Object Identifier (DOI) is integral to this process, you will now see another link that will bring to to the journal's site: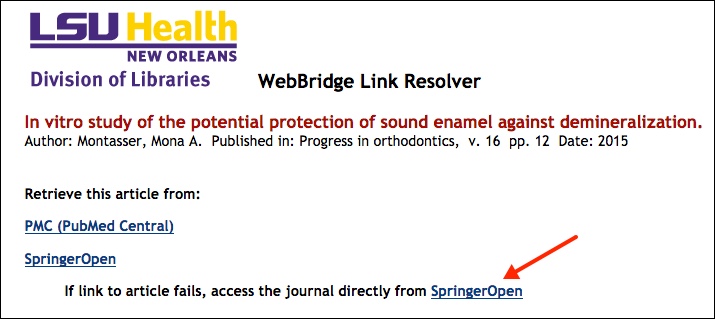 If you encounter the "DOI not found" error, just return to the link resolver result screen and click the alternate link to get to the journal or the publisher's site.
We hope that this will help alleviate some of the trouble that you have getting articles through the link resolver. If you need more information about the WebBridge Link Resolver, check out our LibGuide. Also, if you need help with this or any other Library resources, please contact us.