Link resolver not working in PubMed
As a result of the recent change to HTTPS on all NCBI sites, the WebBridge Link Resolver is no longer working in PubMed. When you click the "Check Full Text" icon, you will see this page: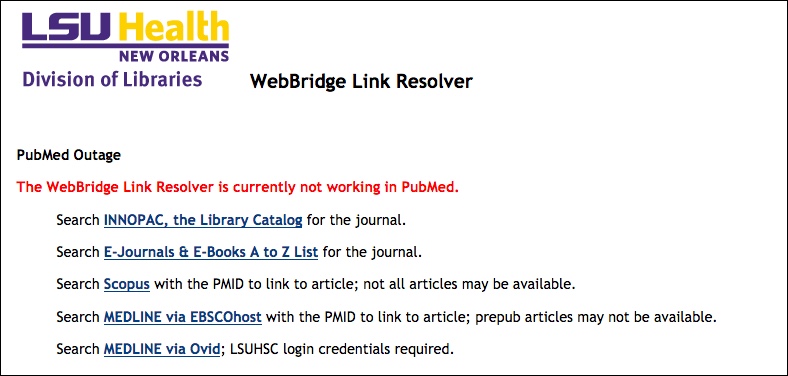 Unfortunately, there is no data being sent from PubMed to our link resolver's system, so you will be unable to check whether the Library has access to an article from PubMed for the foreseeable future. The issue is currently being investigated, but there is no estimate as to when we might have a solution.
In the interim, when you find an article you need you can check whether the Library has access to that journal via INNOPAC, the Library's online catalog or the E-Journals & E-Books A to Z List. Links to those sources are now provided when you click the "Check Full Text" icon in PubMed.
We have also added options that allow you to search other databases with the PMID: the links displayed for Scopus and MEDLINE via EBSCOhost have the PMID added to provide a quick way to use the link resolver in these two databases to get to the article you originally searched in PubMed. A link is also provided to search MEDLINE through Ovid, and the link resolver is available in this database as well.
We will update as soon as we have more information, but if you need more assistance please do not hesitate to contact us.