Link Resolver and PubMed issues
Recently you may have noticed alerts on PubMed and all other NCBI sites regarding testing. This is to prepare all of their sites to permanently transition to HTTPS, but we have discovered that when this testing occurs it affects the ability to see results from the WebBridge Link Resolver, especially in PubMed.
The next scheduled testing time is Friday, November 4, 2016, from 9am until 1pm CDT:

When testing has commenced, you will see a banner similar to this one:

During this test period, whenever you click the "Check Full Text" icon for the WebBridge Link Resolver all results will look like this page regardless of whether we have access to the article: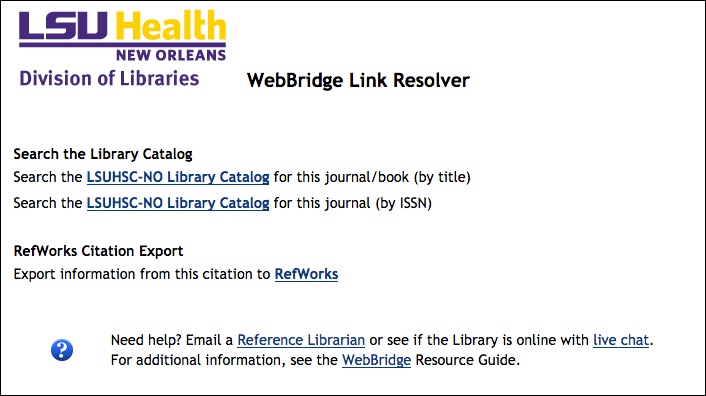 Unfortunately, there is nothing we can do to get the link resolver to work while NCBI is performing these tests, but there are  alternatives to find out whether the Library has access to the article you need. You can check the journal's title via INNOPAC, the Library's online catalog. You can also use MEDLINE through Ovid or EBSCOhost; the link resolver is included in both of these databases and they are not affected by the testing that occurs in PubMed or other NCBI sites.
If you are curious as to why the NCBI sites are changing to HTTPS, this site has all of the information. Additionally, if you need help with this or any other Library resources, please do not hesitate to contact us.