ScienceDirect EBS Collection: Neuroscience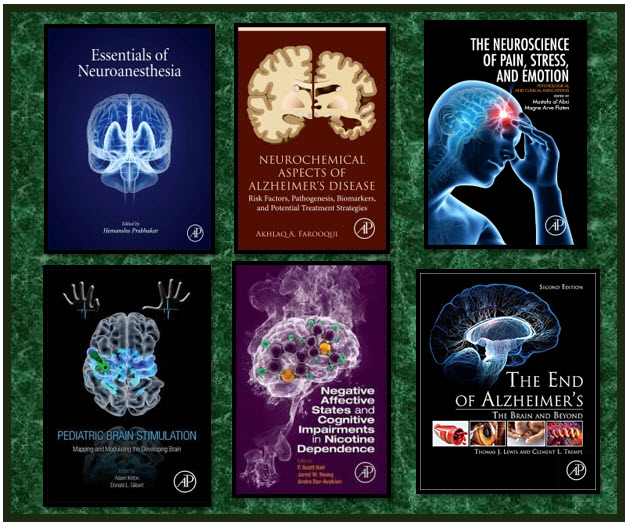 As we wind down our exploration of the ScienceDirect EBS Collection, we are exploring the category of Neuroscience. This group is especially interesting. The ebooks here cover a wide range of applications in the neurosciences field.  Subjects range from Alzheimer's and pain management to stress and substance abuse.
Researchers involved in the field of Geriatrics might want to review Nutritional Modulators of Pain in the Aging Population, edited by Ronald Ross Watson and Sherma Zibadi, or Physical Activity and the Aging Brain, edited by Ronald Ross Watson.
Substance abuse researchers might be interested in The Complex Connection Between Cannabis and Schizophrenia, edited by Michael T. Compton, or The Neuroscience of Cocaine, edited  by Victor R. Preedy.
Dealing with stress (and who isn't these days)? You might want to check out Stress: Concepts, Cognition, Emotion, and Behavior, edited by George Fink, or Neuroscience of Pain, Stress, and Emotion, edited by Magne Arve Flaten and Mustafa al'Absi.
As you can see, this category has it all.  Take it for a spin and see if you can't find something that is relevant to your particular interests.  But don't wait too long.  These ebooks will only be available until the end of June.  After that, only the most viewed selections will be added to our permanent ebook collection.