Vote!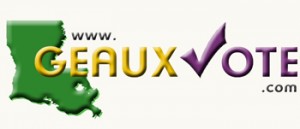 The Congressional Primary Election is coming up! Tomorrow, Tuesday November 6th,  voters will cast their ballot for 435 House (US House of Representatives) seats and 35 of 100 Senate (US senators) seats.
Louisiana citizens will be voting for Louisiana Secretary of State and all six Louisiana U.S. Congressional seats for the 116th Congress along with parish specific positions and issues.
View the GeauxVote's Quick Facts sheet to view further information on the midterm elections.  Consider downloading the GeauxVote app, for assistance with your ballot, or visit GeauxVote.com on the web to discover your polling location and your sample ballot.
Again, don't forget to vote tomorrow! The polls are open from 6am to 8pm.