Gahart's Intravenous Medications Is Now Elsevier!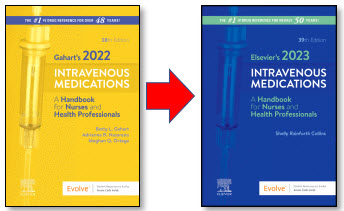 There is a new edition of Gahart's Intravenous Medications but the author has changed and so has the title. Elsevier's 2023 Intravenous Medications: a handbook for nurses and health professionals is now available via ClinicalKey.
This 2023 edition marks the fiftieth year of publication of Intravenous Medications. Betty L. Gahart has stepped away from the publication and the new author is Shelly Rainforth Collins. Betty Gahart originated the idea for this text and manned the helm for nearly 50 years with contributions from her her co-authors, Adrienne R. Nazareno and Meghan Q. Ortega.