May bike days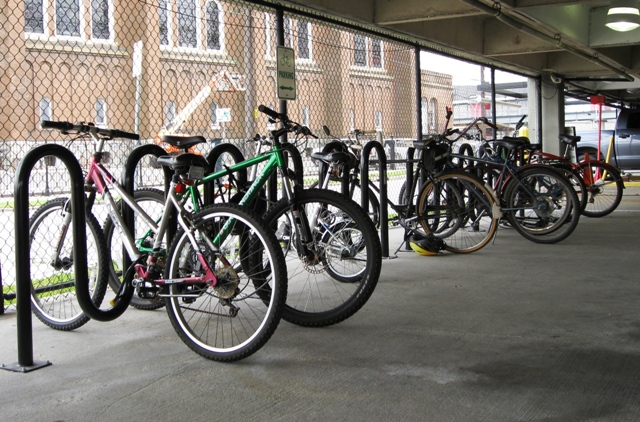 Bikes in the Roman Street Parking Garage. Can you guess which one is mine?
In line with National Physical Fitness Month, May is also deemed National Bike Month by the League of American Bicyclists.
Bicycle commuting is a great way to squeeze regular exercise into a hectic schedule. Commuting time can be used to stay in shape instead of sitting frustrated in traffic. Bicycle commuters get to work on time more often and are happier and more productive. 80% of people who switch from sedentary commuting to cycling improve their heart, lungs and blood vessels greatly in 6-8 weeks, so they get sick much less often.
For a 180 pound man, a 10 mile round trip bike commute burns 400 calories. For a 130-pound woman this same commute burns 300 calories. In fact, children who walk or bicycle to school have higher daily levels of physical activity and better cardiovascular fitness than do children who do not actively commute to school, according to a 2008 article from Preventing Chronic Disease.
Local Bike Links:
New Orleans Metro Bicycle Coalition: http://www.mbcnola.org/
Includes official bike route maps
Bikely: New Orleans bicycle routes
http://www.bikely.com/listpaths/srchkey/new+orleans/country/254/region/140
Bikely lets you map your own bike paths or search paths others have created. Here's one for biking Uptown to the Medical district.
New Orleans Bicycle Club: http://www.neworleansbicycleclub.org/
For the local bike racing enthusiast
Rubarb bikes: http://www.rubarbike.org/
Upper 9th ward community bike shop
Plan B: http://www.bikeproject.org/
Community-run bike project that functions as an open workspace for bicycle repair
Nolacycle: http://www.nolacycle.blogspot.com/
Ongoing project aimed to create a high quality cycling map of New Orleans
Bike Polo: http://www.nolabikerace.com/
Not for the faint of heart.