Link Resolver Now Available!
When searching PubMed, CINAHL, or any other database, have you ever wished there was a better way to get from the citation to the article you want without having to look here and there to find it? We're happy to report today we're releasing the Library's WebBridge Link Resolver that will give you the opportunity to check for the available full-text or print version of an article right there at the citation.
The key to this new feature is this icon:
. Look for it in all EBSCOhost databases (Academic Search Complete, CINAHL, etc.), ProQuest Nursing and Allied Health Source, PubMed, RefWorks, Scopus, Web of Knowledge, and Web of Science. When you click on the icon a new tab or window will open with available resources for the citation: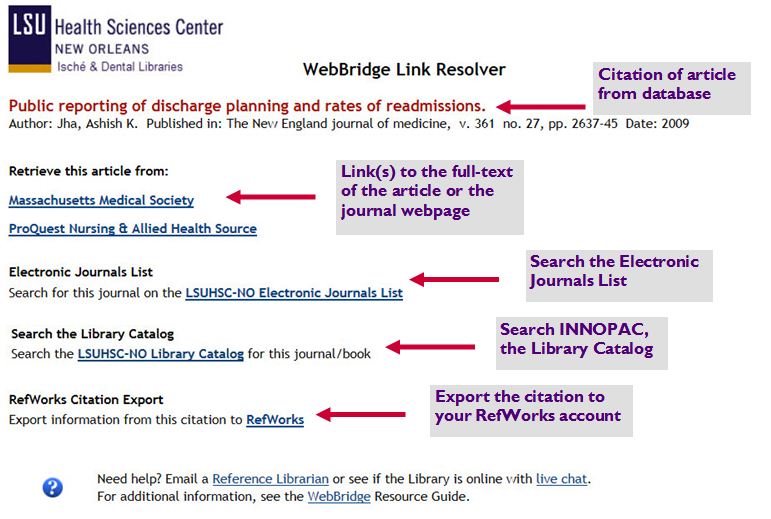 If there are no full-text or print resources available for a resource, you will be able to request the article, book, or chapter through the ILLiad Interlibrary Loan system. Additionally, off-campus access requires a Library barcode and PIN.
The link resolver also lets us provide better access to our subscriptions and various other resources we have access to, and searchers of PubMed will benefit the most. The LinkOut feature in PubMed covered some but not all of our subscriptions, and those limitations are removed with the link resolver. To use this new feature when searching PubMed, you will need to follow one of these links (and be sure to update your PubMed bookmarks as well!):
As with many things electronic these days, there are some caveats to keep in mind when using the link resolver. A tremendous amount of information is passed between websites and systems to not only display available sources for a citation but also to get you to that source. Consequently, there are occasionally hiccups along the way due to misinterpretation of information or incorrect bits of data passed from one site to another. If you encounter any troubles with any citation, there is a link at the bottom of the page displaying sources for each citation that will allow you to contact someone from the Library for help.
If you need additional information about the WebBridge Link Resolver, you can refer to this handout. You can also view the online help file available on the Library's other new resource, LibGuides, on the Link Resolver Help page.