Greater New Orleans Census Data Results
The Greater New Orleans Community Data Center (GNOCDC) recently released an examination of U.S. census data: ÔÇ£Who Lives in New Orleans and the Metro Area Now?ÔÇØ. In this report, the GNOCDC compares New Orleans census data from 2000 to data from 2011 in juxtaposition with national averages. Results are graphed according to changes in race/ethnicity, changes in educational attainment and income, changes in poverty and access to vehicles, changes in foreign-born population, and changes in homeownership and household types. The brief focuses on Orleans Parish, Jefferson Parish, St. Tammany Parish, and the Metro area, each of which are the most populous areas with the most readily available data.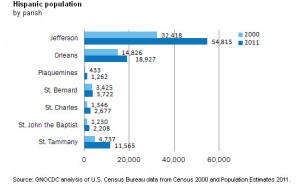 According the census data, several shifts took place in New Orleans demographics with more pronounced changes occurring in the growth of the Hispanic community, the growth of single-person households, and corresponding decreases in adults with less than a high school degree and increase in adults with a bachelorÔÇÖs degree or higher. In comparison with national averages, however, the Hispanic population here is still low, the median household income in Orleans is only $35,041 versus the national $50,502 (though St. TammanyÔÇÖs is $56,536). New Orleans poverty rate is up to 13% higher in Orleans Parish than the U.S., amount of children in poverty almost 20% higher in Orleans than the U.S, households without access to a vehicle 10% higher, and homeownership rates 20% lower in Orleans, but 12% higher than the U.S in St. Tammany.
You can check out the results for yourself here.