This Month in History: Enjoy Rabbits Playing Piano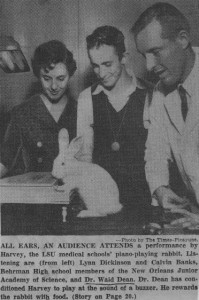 A brief interlude for your busy day: Harvey the virtuoso rabbit and her YouTube accompaniment, Elissa watch?v=0NzN8ksnJhA.
As you might have guessed, rabbits are not particularly adept at playing the piano (certainly not as well-attuned as a famous piano-playing cat, Nora: most-outrageous-piano-playing-cat.htm). In an attempt to challenge unfair bunny stereotypes, Dr. Waid H. Dean, Instructor of Physiology at LSU Medical School, chose Harvey to prove the musical worth of her species.
Though Dr. Dean openly admits "there is no scientific purpose to this demonstration"?á in a 1958 Times-Picayune article, he says the rabbit's performance "is merely to demonstrate that animals can be trained to respond to signals." As with many high-achieving parents, Dr. Dean is not easy to please and expects the best from his tiny Leporidaean maestro. Harvey cannot live up to expectations, however–quickly tiring out after a couple of notes and anxious for her next treat. Though she may not be 6 feet 3 inches tall like another famous Harvey, she is decidedly more cuddly.
On that note, Happy Spring from the staff at John P. Ische Library!