This Month in History: The Hardened Artery Blues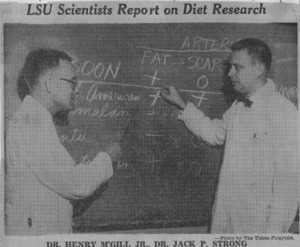 ÔÇ£We first make our habits, and then our habits make us.ÔÇØÔÇöJohn Dryden
Integral to a discussion of health is a discussion of habit. This excerpt from Dryden points out the consequences of habit-forming. Health-wise, each personÔÇÖs habits contribute to that personÔÇÖs overall health including but not limited to how they eat, drink, smoke, and exercise. While this is now a well-known fact of life, bad habits persist.
The 1960s were no stranger to poor health and heart disease. A Times-Picayune article highlights the LSU Medical SchoolÔÇÖs pathology unit of the 1960s and their research into atherosclerosis, a hardening of the arteries due to plaque formation. Dr. Jack C. Geer and Dr. Henry C. McGill, Jr. sought to study the effects of exercise and diet habits, saturated fat intake, geographic and economic environment, genetic predisposition, and stress levels on arterial health. Scientists began to understand that a low-fat diet is not enough to ensure a strong heart, but is only one aspect of leading a healthy lifestyle.
Along with Dr. Jack P. Strong, Dr. Geer and Dr. McGill were known as "The Three Amigos." Dr. Strong would become Chair of Pathology from 1966 to 2009 and receive numerous awards and honors. Dr. Geer graduated from LSU Medical School in 1956 and took on the role of Professor from 1956-1966, eventually serving as Chair and Professor of Pathology at the University of Alabama at Birmingham. Dr. McGill served as Head and Professor of Pathology at LSU Medical School from 1960 to 1966 and became one of the founding faculty members at the University of Texas Health Sciences Center at San Antonio.
Research for this post lead me to a video interview of Dr. McGill on his lengthy career in pathology. He describes his ideal pathology department as comprehensive: with anatomy, laboratory, and surgery. Dr. McGill endearingly and vehemently promotes preventive care as opposed to treatment plans applied after the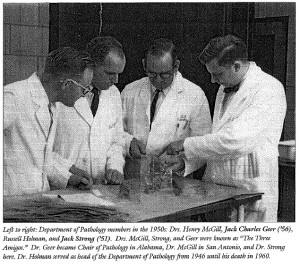 damage has been done.?á Unfortunately, he says, ÔÇ£There is no moneyÔÇØ in that game in a familiar trend of "No Pills, No Profit."?á He mourns the fact that by middle age, it is often too late to prevent the type of lifelong damage done to your arteries as they form the fibrous plaque that leads to heart disease. Watching the video is worth the pearls of wisdom that he offers. One such instance is a life philosophy: "Everybody needs to get fired once in their life." In describing his classroom experience, he tells that, "The style was to quiz a student until he admitted to absolute ignorance and that was the lesson for the day."
According to the 2011 edition of The Merck Manual of Diagnosis and Therapy, atherosclerosis ÔÇ£is the leading cause of morbidity and mortality in the US and in most developed countries.ÔÇØ A big thanks to the work of LSU Medical School's "The Three Amigos" for doing their part along the line of pathology research to help combat our bad habits.
Glimpse of the Past is an ongoing project to promote the Louisiana Digital Library effort. This Month in History will present for your reading pleasure a closer look into a newspaper clipping of note from our Digital Collections and articles relating to the LSU Medical School.