Research by LSUHSC-NO on Display for July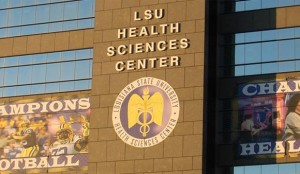 The Library has announced the eight articles by LSUHSC-NO researchers that are being highlighted this month. These are currently on display in the Reference area (near the?áLibrary elevator), on the third?áfloor of the Resource Center Building. These items are also part of the LibraryÔÇÖs Faculty Publications Database.
The Faculty Publications Database includes publications authored by at least one member of the LSUHSC-New?áOrleans faculty, 1998 ÔÇô present. Access to this database is available to the public.
The database is linked from the Library web page?áhere. This page includes a handy link to a?áPDF?áof the monthly bibliography of display articles. To add your faculty publications, or for questions about this database, contact?áKathy Kerdolff.
LSUHSC-NO authors are shown in bold print:
D'Souza AJ, Desai SD, Rudner XL, Kelly MN, Ruan S, Shellito JE. "Suppression of the macrophage proteasome by ethanol impairs MHC class I antigen processing and presentation." PLoS One. 2013; 8(2):e56890.
Escorpizo R, Stucki G. "Disability evaluation, social security, and the international classification of functioning, disability and health: the time is now." Journal of Occupational & Environmental Medicine. 2013; 55(6):644-651.
Shi B, Sheline CT. "NAD+ maintenance attenuates light induced photoreceptor degeneration." Experimental Eye Research. 2013; 108: 76-83.
Owen J, Reisin E. "Obstructive sleep apnea and hypertension: is the primary link simply volume overload?" Current Hypertension Reports. 2013; 15(3):131-133.
Prabhakar A, Owen CP, Kaye AD. "Anesthetic management of the patient with amyotrophic lateral sclerosis." Journal of Anesthesia. 2013; June 01, epub ahead of print.
Salas E, Paige JT, Rosen MA. "Creating new realities in healthcare: the status of simulation-based training as a patient safety improvement strategy." BMJ Quality & Safety. 2013; 22(6):449-452.
Sernich S, Craver RD, Pettitt TW, Caspi J, Ascuitto R. "Rapidly growing cardiac papillary fibroelastoma in a teenager with sickle cell disease." Echocardiography. 2013; 30(5):616-618.
Zhao Y, Bhattacharjee S, Jones BM, Dua P, Alexandrov PN, Hill JM, Lukiw WJ. "Regulation of TREM2 expression by an NF-kB-sensitive miRNA-34a." Neuroreport. 2013; 24(6):318-323.