New displays on tap for Dental Library
Those of you have visited the Dental Library in the past month may have been met with the sounds of hammers, drills, and paintbrushes coming from behind plastic sheeting. Now you can see what the cacophony was all about: a gorgeous set of lighted glass display cases.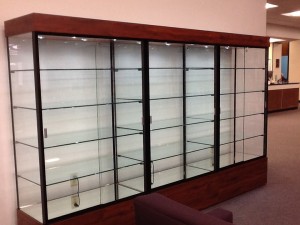 They remain empty, but soon we will be moving many of the items currently displayed in the wooden cases to the right of the library doors in their new home. That area, then, will house much of our rare and old books collection.