Alert! New Faculty Publications on Display!
Our Faculty Publications display, located on the first floor of the Library, has been updated with eight new articles for the months of June and July.
LSUHSC-NO authors are shown in bold print: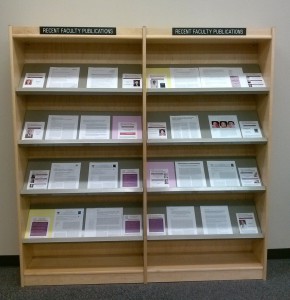 1. Aiyar A, Quayle AJ, Buckner LR, Sherchand SP, Chang TL, Zea AH, Martin DH, Belland RJ. Influence of the tryptophan-indole-IFNgamma axis on human genital chlamydia trachomatis infection: Role of vaginal co-infections. Front Cell Infect Microbiol. 2014;472.
2. Dimitriades VR, Brown AG, Gedalia A. Kawasaki disease: Pathophysiology, clinical manifestations, and management. Curr Rheumatol Rep. 2014;16(6):423-014-0423-x.
3. Domingues MJ, Rambow F, Job B, Papon L, Liu W, Larue L, Bonaventure J. Beta-catenin inhibitor ICAT modulates the invasive motility of melanoma cells. Cancer Res. 2014;74(7):1983-1995.
4. Kaye AD, Okanlawon OJ, Urman RD. Clinical performance feedback and quality improvement opportunities for perioperative physicians. Adv Med Educ Pract. 2014;5115-123.
5. Liu L, Richard J, Kim S, Wojcik EJ. Small molecule screen for candidate antimalarials targeting plasmodium kinesin-5. J Biol Chem. 2014;289(23):16601-16614.
6. Raber PL, Thevenot P, Sierra R, Wyczechowska D, Halle D, Ramirez ME, Ochoa AC, Fletcher M, Velasco C, Wilk A, Reiss K, Rodriguez PC. Subpopulations of myeloid-derived suppressor cells impair T cell responses through independent nitric oxide-related pathways. Int J Cancer. 2014;134(12):2853-2864.
7. Siddoway B, Hou H, Yang H, Petralia R, Xia H. Synaptic activity bidirectionally regulates a novel sequence-specific S-Q phosphoproteome in neurons. J Neurochem. 2014;128(6):841-851.
8. Thounaojam US, Cui J, Norman SE, Butera RJ, Canavier CC. Slow noise in the period of a biological oscillator underlies gradual trends and abrupt transitions in phasic relationships in hybrid neural networks. PLoS Comput Biol. 2014;10(5):e1003622.
These articles are part of the Library's Faculty Publications Database, which is maintained by Reference Librarian, Kathy Kerdolff. The database includes publications authored by LSUHSC-New Orleans faculty, researchers, and students since 1998. It is updated weekly with new articles harvested from a variety of citation sources: PubMed, Scopus, and CINAHL, etc.
The display highlights sixteen articles at a time, rotating eight new articles each month. You can find more information about the database and listings for our current and past displays from Library's Faculty Publications landing page: http://www.lsuhsc.edu/library/databases/facpubs.aspx.
To add your faculty publications to the database and display, or for questions about either, please contact Kathy Kerdolff.