Life and Limb: The Toll of the Civil War Library Exhibition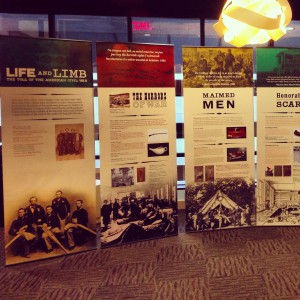 The LSUHSC  Libraries are hosting an exhibition developed and produced by the National Library of Medicine. This exhibit was developed to commemorate the 150th anniversary of the American Civil War and the more than three million soldiers who fought in the war. Life and Limb: The Toll of the Civil War explores the experiences of disabled veterans, their role as symbols of the fractured nation and a stark reminder of the costs of the conflict.
The perspectives of surgeons, physicians, and nurses are richly documented in the history of Civil War medicine, which highlights the heroism and brutality of battlefield operations and the challenges of caring for the wounded during wartime. Yet the experiences of injured soldiers during the conflict and in the years afterwards are less well-known.
More than three million soldiers fought in the war from 1861-1865. More than half a million died, and almost as many were wounded but survived. Hundreds of thousands were permanently disabled by battlefield injuries or surgery, which saved lives by sacrificing limbs.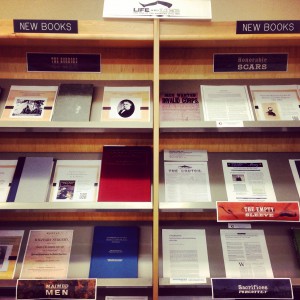 In addition to the travelling exhibition, there is a display in the Library's New Books section with supplemental material from our own collection on surgery, prosthetics and the Civil War. Some of the materials featured include books from our collection, journal articles that can be accessed through our catalog, photocopied materials from our old & rare collection, and links to resources available online. Check out the full Bibliography (with links!).
The Exhibit is available beginning August 4, 2014 at the Ische Library in the Learning Commons. The supplementary display is on the New Books shelves next to the internal elevators.
The display will move to the Dental Library on August 25 and will be available for viewing there until September 12.
Come and see it for yourself!