Ever been hypnotized? While it may not make you cluck like a chicken, as an alternative therapy, medical hypnosis might help you manage and overcome a number of physical and mental conditions. In the fall of 1959, a few brave medical students were willing to put their bodies and minds at the mercy of LSU Medical School Professor of psychiatry Dr. Carl L. Davis for the purpose of studying the viability of hypnotherapy. Later, the students would be given the opportunity to reverse the stakes and hypnotize Dr. Davis in the spirit of fairness.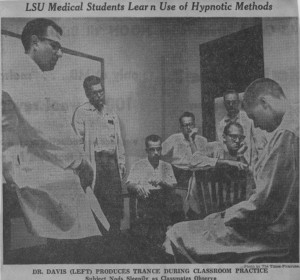 The American Medical Association officially backed medical hypnosis for wide use in 1958, though they cautioned against using the method as a form of entertainment and in cases of severe psychological illness. At that time, medical and dental practices used hypnotherapy as a form of anesthesia and in the management of pain. Other fields of medicine that have found use for hypnotherapeutic procedure include dermatology, gastroenterology, cardiology, obstetrics, oncology, post-surgery recovery, and even in the treatment of smoking addiction, eating disorders, and psychosomatic illness through age regression.
While many remain skeptical about the efficacy of hypnotherapy, it is true that more research and standardization of practice will provide insight into the relative benefits and risks of its usage. Dangers to the patient and the doctor are a considerable cause for concern. The mind, being a vast and complex entity, requires a delicate but firm touch. Hypnotism provides the therapist with the ability to wield the power of suggestion over the patient, and so puts the receptive patient in a vulnerable position. For this reason, the move toward more holistic treatment of the individual is vital in addressing his or her needs.
A 1959 Times-Picayune article relates the case of a man who developed asthma every time his mother-in-law would announce her intention to visitÔÇöÔÇ£This man just cannot understand why this would happen since he honestly believes he is fond of [her].ÔÇØ This is an example of a symptom that could possibly benefit from hypnotherapy (or else a nice, long vacation).
Accounts of hypnotism can turn grim, however. In another instance, a patient suffering from self-destructive tendencies developed paralysis in one of her fingers. She was referred to a hypnotist, who alleviated the symptom without addressing the underlying psychological turmoil. Upon release, the woman promptly employed her newly-flexible trigger finger in one final act of self-harm. This is an extreme example, but speaks to the necessity of treating the patient as a whole and of recognizing links between physical and mental manifestations of illness.
The prominent physicians mentioned in these newspaper articles were Professors of psychiatry at LSU Medical School: Dr. Carl L. Davis, Dr. Lucio Gatto, and Dr. Charles Watkins, who also served as the Head of the department. All of them make a few appearances in our Digital Collections as subject and even creator. Dr. Davis appears for his addresses on teen drinking and middle-age rebellion. Dr. Gatto appears for his study on compulsive borrowing. Dr. Watkins is the most prolific figure for his interest in the history of the U. S. Army 64th General Hospital, which has its own Collection, as well as for his medical-cultural mission to Central America, and his role in the care (and commitment) of former Governor Earl K. Long.
Now a far cry from its historic roots in mesmerism and animal magnetism, the current practice of medical hypnosis can be aligned more closely with deep meditation and positive thinking, the power of which is widely acknowledged by doctors and patients alike.
Glimpse of the Past is an ongoing project to promote the Louisiana Digital Library effort. This Month in History will present for your reading pleasure a closer look into a newspaper clipping of note from our Digital Collections and articles relating to the LSU Medical School.