In honor of those nursing students plowing through history papers this week, here is a little piece of LSU Health Sciences Center history on the role of women in medicine.
Though the word ÔÇ£invasionÔÇØ might connote a hostile takeover or an alien attack, for those who witnessed a new trend in medical student populations post-World War II, ÔÇ£invasionÔÇØ spoke to the influx of females in the medical fieldÔÇönot a case for either the armed forces or Special Agents Mulder and Scully, but certainly an opportunity for marked advances in modern science. This article from the New Orleans States (a newspaper subsumed by the Picayune in 1980) from September 1946 marks an important milestone in our institutionÔÇÖs history as twenty female students enrolled in their first-year of medical school at LSU, surpassing the thirteen of the previous year.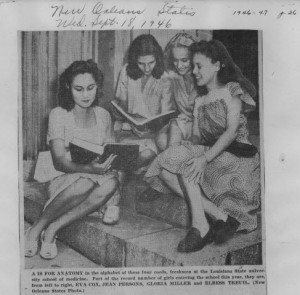 The reasoning behind this onslaught of female M.D. candidates seems to follow on the wake of the recent war: ÔÇ£There is no telling what would have happened to their dreams of a profession if the right man had been attending classes at college with them instead of fighting a war, most of them agreed.ÔÇØ While the availability of Mr. Right may have been postponed, the drive of these women to pursue a medical career (perhaps a less intuitive path according to the social norms of the late 1940s) cannot be denied. Citing the greater freedom and social mobility of the times in addition to the general indifference of their professors and male peers on the growing female presence in the classroom, these women transcend the ÔÇ£vague motivesÔÇØ of the ÔÇ£feminine vogue for wearing a doctorÔÇÖs insigniaÔÇØ to participate within our history.
Perhaps bolstered by the popular figure of Rosie the Riveter, a new class of professional care-givers is subjected to the rigors of a medical education and the horrors of the cadaver lab. One such empowered and notable woman pictured in this piece is Ms. Jean Persons, who would go on to become one of AlaskaÔÇÖs best known pioneer doctors and who published a memoir in 2007: From Dog Sleds to Float Planes: Alaskan Adventures in Medicine. You can read the glowing Amazon reviews here. In a time of tuberculosis and remote citizenship, Dr. Persons ÔÇ£was a petite single woman tackling a job most men would run from,ÔÇØ and so she stands as a measure for all those who follow, a prime example of not only female physicians, but of all LSU Medical School graduates.
Glimpse of the Past is an ongoing project to promote the Louisiana Digital Library effort. This Month in History will present for your reading pleasure a closer look into a newspaper clipping of note from our Digital Collections and articles relating to the LSU Medical School.