3D Tech in the Library? YES!
The LSUHSC-NO Libraries are now offering free 3D printing and scanning!
A Makerbot Replicator Mini and a Makerbot Digitizer are available at the Isché and Dental Libraries.  The printer and scanner are available for free to all faculty, residents, students, and staff of LSUHSC-NO.
The Libraries received an Emerging Technologies Award from the National Network of Libraries of Medicine / South Central Region to purchase the equipment and make it available to our patrons.  The purpose of the award is to foster the creativity and encourage innovation in the health sciences.  We encourage you to come in and try them out even if you have never used 3D printer or scanner before.  We are happy to introduce the technology to you so you can create on your own.
Come in to the Library or go to our website for more information on the technology and our policies.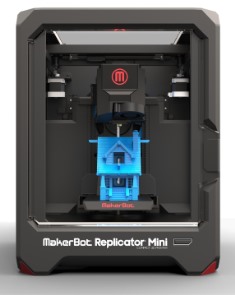 Updated 9/1/15: Unfortunately, the 3D printer at the Isché Library has suffered a catastrophic failure and is no longer available. Please contact the Dental Library for your 3D printing needs.