Finding resources during INNOPAC maintenance
While the Library's INNOPAC system is offline for maintenance, a number of functions are affected. During this outage the catalog, off-campus access, and link resolver will be unavailable. However, here are a few ways to get the resources you need during this downtime:
All print books and journals will be available for checkout; although we will be unable to look up holdings and call numbers, Library staff will assist you in finding the materials you need from anything that is on reserve or in the stacks.
All online resources will be available on campus only; when viewing the available databases be sure to click the "On Campus" link: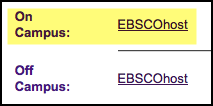 If you need an ebook you can use the eBooks LibGuide to find the on-campus links to the electronic books available from various publishers.
Although it is also an option for ebooks, the E-Books & E-Journals A to Z List will allow access to the online version of the majority of journals available from the Library.
We hope the outage will not last very long, but Library staff will be ready to answer any questions you have regarding resources while this necessary maintenance is completed. Please do not hesitate to contact us if you have any questions.