Inner Beauty of Nature: X-Ray Photography
The retired professor of surgery, Bert Myers, published a book about x-ray photography. A mere 18 years after the x-ray was discovered by Roentgen, the French scientist Goby took an x-ray of a leaf in 1913 and soon to follow were others that took an interest in the unique and creative art form. Most recently, Myers has been adding color to some of his x-rayed images through Photoshop.
The book mentions four image manipulations: positive, negative, solarized, and line derivation. ?áBelow is a positive black & white image of a blue crab.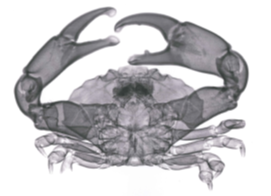 For more details and an up close look at more photos, the book is available through his website or borrow the library's copy.
If you arenÔÇÖt familiar with locating books in our library donÔÇÖt fret, take a look at our How to find a book tutorial on the libraryÔÇÖs homepage (updates coming soon!).