LSUHSC-NO Authors on Display for December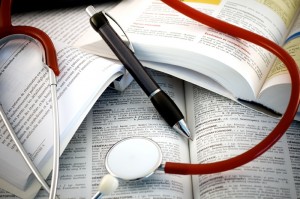 The Library is displaying eight new faculty publications by LSUHSC-NO researchers in the Reference area (near the?áLibrary elevator), on the third?áfloor of the Resource Center Building. These items are also part of the LibraryÔÇÖs Faculty Publications Database.
The Faculty Publications Database includes publications authored by at least one member of the LSUHSC-New?áOrleans faculty, 1998 ÔÇô present. Access to this database is available to the public. The database is linked from the Library web page?áhere. This page includes a handy link to a?áPDF?áof the monthly bibliography of display articles. To add your faculty publications, or for questions about this database, contact?áKathy Kerdolff.
LSUHSC-NO authors are shown in bold print:
1.?áFarrell TM, Bergman S, Selim N, Paige JT, Harzman AE, Schwarz E, Hori Y, Levine J, Scott DJ. ÔÇ£Practice gaps in gastrointestinal and endoscopic surgery (2011): a report from the Society of Gastrointestinal and Endoscopic Surgeons (SAGES) Continuing Education Committee.ÔÇØ Surgical Endoscopy. 2012; 26:3367-3381.
2.?áDuell EJ, Lucenteforte E, Olson SH, Bracci PM, Li D, Risch HA, Silverman DT, Ji BT, Gallinger S, Holly EA, Fontham EH, Maisonneuve P, Bueno-de-Mesquita HB, Ghadirian P, Kurtz RC, Ludwig E, Yu H, Lowenfels AB, Seminara D, Petersen GM, La Vecchia C, Boffetta P. ÔÇ£Pancreatitis and pancreatic cancer risk: A pooled analysis in the international pancreatic cancer case-control consortium (PanC4).ÔÇØ Annals of Oncology. 2012; 23(11):2964-2970.
3.?áKelly MN, Zheng M, Ruan S, Kolls J, D'Souza A, Shellito JE. ÔÇ£Memory CD4+ T cells are required for optimal NK cell effector functions against the opportunistic fungal pathogen pneumocystis murina.ÔÇØ Journal of Immunology. 2012; 1-15.
4.?áMitchell H, Cohn RD, Wildfire J, Thornton E, Kennedy S, El-Dahr JM, Chulada PC, Mvula MM, Faye Grimsley L, Lichtveld MY, White LE, Sterling YM, Stephens Sr. KU, Martin III WJ. ÔÇ£Implementation of evidence-based asthma interventions in post-Katrina New Orleans: The head-off environmental asthma in Louisiana (HEAL) study.ÔÇØ Environmental Health Perspectives. 2012; 120(11):1607-1612.
5.?áStender SR, Hoxsey RJ. ÔÇ£A hairy situation.ÔÇØ Adolescent Medicine: State of the Art Reviews. 2012; 23(2):359-370.
6.?áSulzer JK, Whitaker AM, Molina PE. ÔÇ£Hypertonic saline resuscitation enhances blood pressure recovery and decreases organ injury following hemorrhage in acute alcohol intoxicated rodents.ÔÇØ Journal of Trauma & Acute Care Surgery. 2012; 1-7 epub.
7.?áTate DJ,Jr, Patterson JR, Velasco-Gonzalez C, Carroll EN, Trinh J, Edwards D, Aiyar A, Finkel-Jimenez B, Zea AH. ÔÇ£Interferon-gamma-induced nitric oxide inhibits the proliferation of murine renal cell carcinoma cells.ÔÇØ International Journal of Biological Sciences. 2012; 8(8):1109-1120.
8.?áWard KE, Happel KI. ÔÇ£An eating disorder leading to wet beriberi heart failure: A case report of a 30-year-old woman.ÔÇØ American Journal of Emergency Medicine. 2012; 1-2 epub ahead of print.