This Month in History: The Alligator Men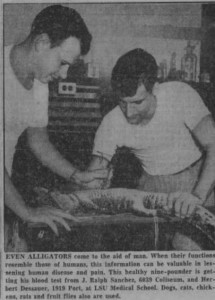 As a Louisiana native or even an adventurous visitor, youÔÇÖve probably fed an alligator a marshmallow or two. WhatÔÇÖs the allure of marshmallows to a wild swamp creature? We may never truly know, but for an animal that will scarf down turtle shells, rocks, lures, beer cans, and shoes, marshmallows are probably the least of its worries.
Profiled in the Times-Picayune for their project in 1951, the self-proclaimed LSU "alligator men" studied the production of acid gastric juice and self-induced hibernation in alligators, as compared to iguanas and chameleons. The stars of this ÔÇ£zooÔÇØ were Dr. Roland Coulson, LSUMC faculty (1944-2004), Dr. Thomas Hernandez, LSUMC faculty (1960-1977) and Chair of Pharmacology, Dr. Fred G. Brazda, LSUMC faculty (1939-1977) and Chair of Biochemistry, and their graduate student, Dr. Herbert C. Dessauer. In the preface of a later work, Alligator Metabolism, Coulson and Hernandez speak to the origin of their honorary titles": "It is not possible to have done research on alligators for many years without having gained a reputation for eccentricity as a consequence of the choice of experimental animal. One accepts this and learns to live with it. […] By some, an alligator man is tolerated (as a harmless eccentric should be), and by others he is admired for the fearless manner in which he confronts such a 'terrifying' beast."
Though certainly fearless, these doctors chose smaller gators to reduce the risk of injury, and by the time the animals reached a rowdy 20 pounds, they were returned to the swamp. Because alligators produce a large amount of hydrochloric acid during digestion, they perform a more dramatic and more readily observable process of digestion. Alligators are also tougher physically and less prone to blood poisoning, making them easier to study. In addition to their excellent acid production, the test gators self-induced a sort of hibernation in winter despite the fact that researchers kept them in windowless rooms with automatic lights; by abstaining from food and decreasing sugar in the bloodstream, the test subjects did not grow.
The practical application of the research of the "alligator men" may not seem readily apparent, but as Dr. Coulson explains in the newspaper article, ÔÇ£The scientist doesnÔÇÖt have to be working toward the cure of any specific malady [ÔǪ] but often he stumbles upon it by accident, through just a study as ours.ÔÇØ They developed enough material to write numerous journal articles (PubMed author search results hyperlinked above) and monographs. Two books co-authored by Dr. Coulson and Dr. Hernandez are available in the Library: Alligator Metabolism: Studies on Chemical Reactions in Vivo and Biochemistry of the Alligator: A Study of Metabolism in Slow Motion.

Dr. Herbert Dessauer, who began as a humble graduate student and would go on to become Professor Emeritus of molecular biology at LSU Medical Center, passed away earlier this month after a brief illness. We would like to recognize his contributions to not only the scientific community, but also to LSU.?á For more information on the contributions of each of the renowned doctors mentioned in this post, please consult A History of LSU School of Medicine New Orleans, which is available in the Library. When you stop by, be sure to check out our display cases, which are home to various medical artifacts including an analytical balance used by Coulson, Hernandez, and Dessauer.
Glimpse of the Past is an ongoing project to promote the Louisiana Digital Library effort. This Month in History will present for your reading pleasure a closer look into a newspaper clipping of note from our Digital Collections and articles relating to the LSU Medical School.