April's Research Display ÔǪ Plus a bonus!!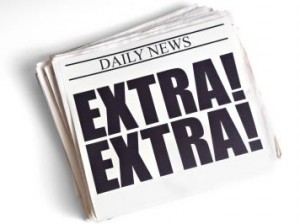 The Library is highlighting eight faculty publications by LSUHSC-NO researchers, hot off the press, in its display for the month of April.
These can be physically viewed in the Reference area (near the?áLibrary elevator), on the third?áfloor of the Resource Center Building. These items are also part of the LibraryÔÇÖs Faculty Publications Database.
The Faculty Publications Database includes publications authored by at least one member of the LSUHSC-New?áOrleans faculty, 1998 ÔÇô present. Access to this database is available to the public.
The database is linked from the Library web page?áhere. This page includes a handy link to a?áPDF?áof the monthly bibliography of display articles. To add your faculty publications, or for questions about this database, contact?áKathy Kerdolff.
LSUHSC-NO authors are shown in bold print:
1.?áGee RE, Wilensky GR. ÔÇ£Payment reform: Why is it happening and what will it mean for you?ÔÇØ Obstetrics & Gynecology. 2013; 121(2 pt 1):231-234.
2.?áHoover K, McCarthy H. ÔÇ£Instructional video review.ÔÇØ Rehabilitation Counseling Bulletin. 2013; 56(3):190-191.
3.?áLariviere CA, McAteer JP, Huaco JA, Garrison MM, Avansino JR, Koepsell TD, Oldham KT, Goldin AB. ÔÇ£Outcomes in pediatric surgery by hospital volume: A population-based comparison.ÔÇØ Pediatric Surgery International. 2013.
4.?áNelson S, Happel KI, Zhang P, Myers L, Dufour JP, Bagby GJ. "Effect of Bacterial Pneumonia on Lung Simian Immunodeficiency Virus (SIV) Replication in Alcohol Consuming SIV-Infected Rhesus Macaques." Alcoholism: Clinical & Experimental Research. 2013.
5.?áPacifici M, Delbue S, Ferrante P, Jeansonne D, Kadri F, Nelson S, Velasco-Gonzalez C, Zabaleta J, Peruzzi F. ÔÇ£Cerebrospinal fluid miRNA profile in HIV-encephalitis.ÔÇØ Journal of Cellular Physiology. 2013;228(5):1070-1075.
6.?áRehman T. ÔÇ£Pulmonary hernia.ÔÇØ American Journal of the Medical Sciences. 2013;345(1):61.
7.?áSasapu A, Casperson JB, Craver R, Abraham G. ÔÇ£A 16-year-old African American girl with necrotizing lymphadenitis.ÔÇØ Clinical Pediatrics. 2012;51(10):998-1000.
8.?áZhang B, Romaker D, Ferrell N, Wessely O. "Regulation of G-protein signaling via Gnas is required to regulate proximal tubular growth in the Xenopus pronephros." Developmental Biology. 2013, 376(1): 31-42.
And ……
Extra this Month: breaking news!
It has recently been announced in the medical community that research led by David H. Martin, MD, Professor and Chief of Infectious Diseases at LSUHSC-NO, has found that a common sexually transmitted infection-causing parasite ÔÇ£cultivatesÔÇØ bacteria beneficial to it, changing thinking about which comes firstÔÇôinfection or bacteria. The researchers also discovered a previously unknown species of these bacteria. The research was published ahead of print online in Advance Access in the Journal of Infectious Diseases, and was published online April 2, 2013 in Research Highlights in Nature Reviews Urology.
Martin DH,?áZozaya M,?áLillis RA,?áMyers L,?áNsuami MJ,?áFerris MJ. ÔÇ£Unique vaginal microbiota which include an unknown Mycoplasma-like organism are associated with Trichomonas vaginalis infection.ÔÇØ Journal of Infectious Diseases. 2013, 15 Mar (epub ahead of print).
Read full info on this groundbreaking research here!