New Webpage for the Libraries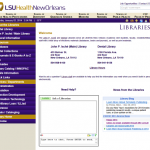 A new webpage design has been launched by the Dental and Isch?® Libraries. The new?ásite complies with the University design and fully integrates the two Libraries.
The new URL is http://www.lsuhsc.edu/library/. All bookmarks to old Library pages will redirect to the new main page.
Please let us know if you can't find something you've used in the past.