It came from the stacks
This month we are highlighting a very interesting find from the Dental Library: Wit Love Frum Cousin Sylveste by Fred J. Wolfe D.D.S.  This collection of original letters documents a small portion of the history of Louisiana dentistry, the Louisiana Dental Association, and Louisiana heritage.
Fred J. Wolfe D.D.S. was a New Orleans dentist who graduated from dental school in 1908 and established a practice on Canal Street.  He served as President of the Louisiana Dental Association from 1927-1928.  Beginning in the Summer of 1931, Dr. Wolfe authored letters published in Impressions, "A Journal of Friendly Relations published quarterly by the Louisiana State Dental Society".  The regular column, A Letter from Cousin Sylveste, detailed the state of Louisiana dentistry, the events that took place at Louisiana and national dental meetings, and daily life as a Louisiana dentist.  Each letter was written in an irreverent Cajun dialect and pokes fun at the profession, meeting presenters, society leaders, and Louisiana culture.  The last letter was published in the last issue of Impressions (1938 Summer: 7(3): 13-4) but Wit Love Frum Cousin Sylveste contains a special unpublished "Au Revoir frum Sylveste" letter dated May 18, 1939.  The volume is signed by the author and many of the personalities who appear within the letters and was presented as a gift to the Louisiana State University School of Medicine Library in memory of Leo J. Schoeny, D.D.S.. an editor of the journal Impressions.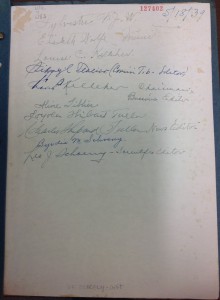 If you would like to take a look at this or any of the other special holdings in the Dental Library, please contact us.  We are happy to show off our collection!