Summer Reading List: Faculty Publications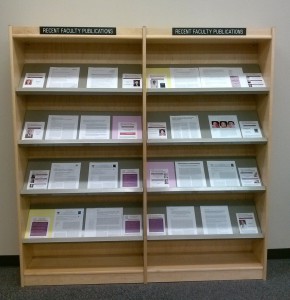 The Library's Faculty Publications display has been updated with eight new articles for the months of June and July. The display highlights sixteen articles at a time, rotating eight new articles in each month. The display is located near the Library's internal elevator, which is on the first floor of the library.
These articles are part of the Library's Faculty Publications Database, which is maintained by Reference Librarian, Kathy Kerdolff. The database includes publications authored by LSUHSC-New Orleans faculty, researchers, and students since 1998. It is updated weekly with new articles harvested from a variety of indexes, such as PubMed, Scopus, and CINAHL.
You can find more information about the database and listings for our current and past displays from Library's Faculty Publications landing page: http://www.lsuhsc.edu/library/databases/facpubs.aspx.
To add your faculty publications to the database and display, or for questions about either, contact Kathy Kerdolff.
LSUHSC-NO authors are shown in bold print:
1. Armstrong ML, Duncan CL, Stokes JO, Pereira D. Association of caregiver health beliefs and parenting stress with medication adherence in preschoolers with asthma. J Asthma. 2014;51(4):366-372.
2. Chan TF, Lin WT, Huang HL, Lee CY, Wu PW, Chiu YW, Huang CC, Tsai S, Lin CL, Lee CH. Consumption of sugar-sweetened beverages is associated with components of the metabolic syndrome in adolescents. Nutrients. 2014;6(5):2088-2103.
3. Espinoza LR, Helliwell P. Psoriatic arthritis: Mary Stults Sherman, a forgotten figure in its history. Clin Rheumatol. 2014.
4. Khan N, Abbas AM, Almukhtar RM, Cole EB, Khan AN. Adherence and efficacy of screening for low bone mineral density among ulcerative colitis patients treated with corticosteroids. Am J Gastroenterol. 2014;109(4):572-578.
5. Lewis DL, Butts CJ, Moreno-Walton L. Facing the danger zone: The use of ultrasound to distinguish cellulitis from abscess in facial infections. Case Rep Emerg Med. 2014
6. Paul D, Soignier RD, Minor L, Tau H, Songu-Mize E, Gould HJ,3rd. Regulation and pharmacological blockade of sodium-potassium ATPase: A novel pathway to neuropathy. J Neurol Sci. 2014;340(1-2):139-143.
7. Reed JR, Cawley GF, Ardoin TG, Dellinger B, Lomnicki SM, Hasan F, Kiruri LW, Backes WL. Environmentally persistent free radicals inhibit cytochrome P450 activity in rat liver microsomes. Toxicol Appl Pharmacol. 2014;277(2):200-209.
8. Yano J, Palmer GE, Eberle KE, Peters BM, Vogl T, McKenzie AN, Fidel PL,Jr. Vaginal epithelial cell-derived S100 alarmins induced by candida albicans via pattern recognition receptor interactions are sufficient but not necessary for the acute neutrophil response during experimental vaginal candidiasis. Infect Immun. 2014;82(2):783-792.