It Came From the Stacks
In honor of everyone using their time this summer to study for their board exams, this month's "It Came From the Stacks" post is about a board review text.  However, you might not want to use it for your boards as it was published 107 years ago.
Underwood & Gabell's Aids to Dental Surgery is one volume in their "Student's aids series."  The book is small and as the author states in his preface, "condense(s) into a concise form that department of the science of dental surgery which is capable of such treatment."  Underwood states that the books concentrates on matters which are likely to be included on examinations.  "If the book smooths the path of any of the large body of dental students, with whose education and welfare my daily work has been and is so largely concerned, I shall feel that its object has been accomplished."
Within this slim, 126 page book, the authors cover the breadth of dental science including bacteriology, hygiene, injuries and illnesses of the pulp, periosteum, mucous membrane, and jaws, extraction of teeth, and diseases arising from diseases of the teeth and gums.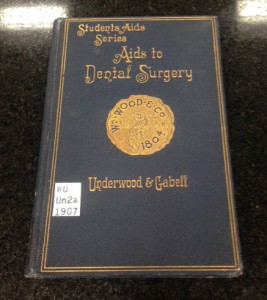 LSUHSC-NO Libraries is lucky enough to hold one of only 12 copies of this work in the world.  If you'd like to come take a look at this book or any of our more recent board review materials, please contact us or stop in to see us.