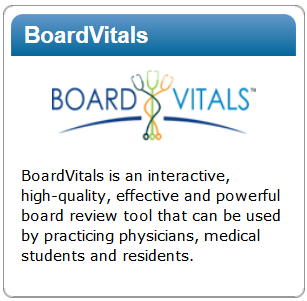 The LSUHSC-New Orleans Libraries are pleased to announce that we now have access to a new exam review database, BoardVitals.  Our access to BoardVitals is available through our subscription to STAT!Ref.
Our subscription includes 8 test banks:
NBDE Part I
NBDE Part II
NCLEX-PN
NCLEX-RN
USMLE Step 1
USMLE Step 1, Part 2
USMLE Step 2
USMLE Step 3
Setting up an account is easy with your lsuhsc.edu email address!
There are a few ways to get to the BoardVitals registration page:
If you are on campus, you can go directly to the BoardVitals sign up page: https://www.boardvitals.com/users/sign_up, or you can log in to the STAT!Ref database from the Library's web page, and then click on the BoardVitals link.
If you are off-campus, you can access the STAT!Ref database from the Library's web page remotely using your library barcode and PIN. Don't forget to use an "Off Campus Access" link.  Once you are logged into our STAT!Ref subscription, click on the BoardVitals link.
Fill out the sign-up application on the BoardVitals platform making sure to use your lsuhsc.edu email account.  Shortly after you submit your application, BoardVitals will send you an email with a link to accept and confirm your account.  Once that process is complete, you can sign in using your email address and new password to access our subscribed tests.  You can then access BoardVitals through our STAT!Ref database or by going directly to the BoardVitals web site: http://www.boardvitals.com/.
Please note that once on the BoardVitals platform, there will be options to trial or purchase other test banks on your account (and personal dollar).  These options are not funded through our subscription.
BoardVitals has created some helpful video tutorials, so be sure to check those out – https://www.boardvitals.com/video.
We hope you find this new resource helpful in your studies!